Cyberspace a breeding ground for fierce emotion relief
(Mirror.com)
Updated: 2004-03-09 11:42
Britain is fast becoming a nation of cybersex addicts. More than half of us admit having surfed the net for porn.
In an incredibly detailed sex survey, the Daily Mirror found that a third of those searching the web for hard-core images are women.
Our shock findings also reveal that one in six of us has indulged in cybersex - using chatrooms and instant messaging for sexual thrills, often hiding behind anonymous nicknames.
Cyberspace is playing a bigger part in people's sex lives than ever before. And the net accounts for a massive 200 per cent leap in the number of people habitually looking at X-rated images.
We asked 3,365 adults if they often looked at porn before the internet. Only three per cent said they had.
But when asked if they spent the same amount of time looking at porn online, the figure shot up to nine per cent. And even the number of those who have used porn just once has doubled.
The good news is that we're also using the net to help us form more traditional partnerships. One in 10 of us has formed a relationship after meeting someone on it.
When it comes to cybersex, Northerners are far more likely to trawl sexually explicit websites than their southern counterparts.
We found that 69 per cent of Britons in the North East have used the net for porn images, compared to 50 per cent in the South West.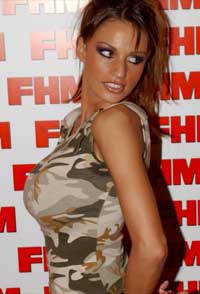 THRILL POWER: Jordan is a popular search target
Geordies are the randiest, with 32 per cent confessing to taking part in cybersex. But it doesn't tempt many in the East Midlands, where only three per cent have tried it.
Talking dirty on the web is a growing trend among women - 13 per cent admit taking part in cybersex.
Some of the biggest names in showbiz have unwittingly lent their names to the most popular soft-porn sites.
JORDAN, Britney Spears and Pamela Anderson get the most hits as punters search for sexy photos.
Bizarrely, cybersex is not viewed by many as two-timing a partner, and 44 per cent of us believe a person having internet sex is less of a cheat than a real adulterer.
Sex expert and psychologist Susan Quilliam is not surprised by our findings. She says the internet has made sex more easily available.
It is estimated that half of all households in Britain have access to the web and it is expected to have 725 million users worldwide by the end of this year.
"The internet has been a major player because it has made sex more accessible," says Susan. "The tripling of the use of porn on the web does not reflect a tripling in desire for porn. It reflects the increase in opportunities to access it.
"In the past, the man who used porn wore a long raincoat and shuffled out of sex shops with a video wrapped in a brown paper bag. Now, all he has to do is go upstairs and log on to his computer.
"Women are becoming more adventurous and more accepting of porn, too. And many people find cybersex liberating because it feels safe doing it in the comfort of your own home. There is also the anonymity factor.
"Now that we have the technology of chatrooms and emails, it is inevitable that people are using it to enhance their sex lives."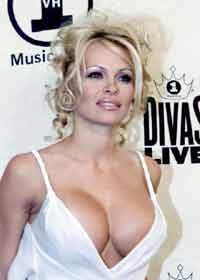 BIG HIT: Pamela Anderson
But the net boom is taking its toll on relationships, says Denise Knowles, counsellor and spokeswoman for Relate.
The charity has seen a massive rise in the number of people who come to it for help and says increasing internet use is to blame. One in 10 couples who contact the charity have problems relating to the use of the web.
Denise explains: "The main complaint is the hours which people spend on their computers, using chatrooms and looking at porn. It can be addictive and means time spent away from your primary relationship.
"If your wife or husband is sneaking off at 2am to log on to their computer, you can't help wondering what they are up to. It causes resentment because it is uncomfortable to think your partner is sharing intimacies with someone else."
Though cybersex with strangers might be considered safe and "not cheating", it encourages deceit, she adds. "It enables people to lie. You might be short, fat and balding but you can pretend to be Adonis."
Jim Richards of the Catholic Children's Society warns: "Enhancing one's sex life is about trying to deepen that love, rather than looking for a quick fix over the internet."
And Relate counsellor Paula Hall says: "The web has had the effect of encouraging people to give up on relationships rather than try and work out problems."
The murder of musician Jane Longhurst has highlighted the sickening and dangerous side to net sex.
Jane's relatives called for tighter controls on sick porn websites showing necrophilia and women being raped and hanged after Graham Coutts, who was hooked on these sites, was jailed for life for her murder.
The net should have more safeguards, `according to The Concern for Family and Womanhood's general secretary, Yvonne Stayt.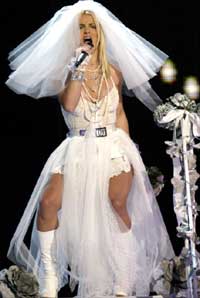 TEASE: Britney Spears
"It is particularly worrying that children can access the web," she says. "Parents should keep a close eye on what their youngsters are looking at. Porn changes men's views on women but also women's views on men - it cheapens the relationship.
"The fact that 53 per cent of people have looked at porn on the web is deeply worrying."
A spokesman for internet service provider Yahoo would not comment on its adult chatrooms but said its adult dating service had hundreds and thousands of subscribers.
"It is very popular," he said. "People browse the site for free and pay when they see someone they like."
YOUGOV surveyed 3,365 adults across Britain online on January 29 and 30. The data has been weighted to conform to demographic profiles of British adults as a whole.
Today's Top News
Top Life News

China puzzled over US filing tax complaint at WTO




Chen, Annette Lu slightly wounded in shooting




Specific reform objectives set for banks




Bush urges allies to stick with united mission




Marriage bells toll in cyber churches




Chinese, French women hold dialogue