Lenovo joins Olympic club
By Wang Yu (China Business Weekly)
Updated: 2004-03-08 17:01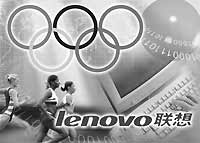 China's largest computer vendor Legend Group (Lenovo) joined an elite business club to become a business partner of the Olympic Games.
Lenovo became the first Chinese business ever to join The Olympic Programme (TOP).
The move ends foreign brands' monopoly of the business giants' club of worldwide sponsorship for the grand sports events, but experts are in doubt about the any economic returns derived from the sponsorship.
Lenovo has already inked deals with the marketing department of the International Olympic Committee (IOC) and the local counterparts of the Beijing Organizing Committee, said sources close to the Beijing Organizing Committee for the Games of the XXIX Olympiad (BOCOG).
But Haier, one of China's largest household appliance manufacturers and another competitor for the TOP programme, did not get the nod.
Zhang Haifeng, deputy director of the Media and Communications Department under the BOCOG, said that the programme is still under review. Other businesses may still join.
He said late last month that the committee is still working with IOC to tie up with more partners.
According to the deal, Lenovo will fund IOC to the tune of US$65 million and become major supplier of information technology (IT) equipment for the XX Olympic Winter Games in Turin, Italy, in 2006 and the XXIX Olympic Games in Beijing in 2008.
In return, Lenovo can use the logo of IOC's worldwide partners to promote its brand and sales in the global market during the four-year tenure.
"TOP companies receive exclusive marketing rights and opportunities within their designated product category. They may exercise these rights on a worldwide basis, and they may develop marketing programmes with the various members of the Olympic movement, in addition to the exclusive worldwide marketing opportunities,'' said the IOC's website.
Launched last September, the marketing programme of the XXIX Olympic Games has attracted wide attention both at home and abroad. It has been devided into two major parts: sponsorship and licensing programme. Among them the sponsorship is further grouped into three tiers: TOP partners, sponsors and suppliers.
Currently, there are 10 big names under the TOP programme for the coming four-year tenure -- Coca-cola, John Hancock, Kodak, McDonald's, Panasonic, Samsung, Swatch, Visa, General Electric and Schlumberger.
Launched in 1985, the TOP plan,which is now in its sixth tenures, was the most high-profile sponsorship programme launched by IOC.
Michael Payne, director of the Marketing Department of the IOP's Marketing Commission told China Business Weekly in earlier interview that there could be as many as 12 TOP worldwide partners for the XXIX Olympic Games.
He said there are still two to three seats open. A number of Chinese firms from banking, auto and telecommunications sectors are bidding for them.
Selection of the TOP partners will be closed by the end of the year.
A poll conducted by the Beijing 2008 Olympic Games Bid Committee showed that 94.6 per cent of the Chinese people supported the bid. This huge good will and enthusiastic support of the Games will translate into exceptionally high levels of recognition and support across the country for those companies who sponsor the Games, said the website of the BOCOG.
"For international entities looking to expand into the thriving Chinese market place, a partnership with the 2008 Olympic Games will deliver a powerful business opportunity for growth, and product/service showcasing while serving to strengthen and build ties of friendship throughout China,'' the website advocated.
"Sponsor support is crucial to the staging of the Games and the operations of every organization within the Olympic movement. Partner support is not only relevant during the Games period; they provide vital technical services and product support,'' said IOC's website.
Sponsorship contributes more than 40 per cent of Olympic marketing revenues. Each level of sponsorship entitles companies to different marketing rights in various regions, category exclusivity and the use of designated Olympic images and marks.
"For Chinese firms, the Olympic Games provide an honorable opportunity to enhance their image and demonstrate their strengths in key technologies, products and services while gaining recognition for their commitment to China's national quest for professional excellence in all realms of business,'' said BOCOG's website.
Eyeing overseas markets
The move is also billed as a decisive yet bold step by the computer giant to boost its business expansion in the international market.
Lenovo is already the largest computer seller in the Asia Pacific region (excluding Japan). It shipped 3.593 million PC units in 2003 and took a 12.7 per cent of the total stake in the market, according to International Data Company.
The company announced mid last month that a 17-per-cent year-on-year increase in its third quarter results, which ended December 31, marked a turnover of approximately HK$6.55 billion (US$839.70 million).
Profits attributable to shareholders rose to approximately HK$325 million (US$41.66 million) by 2.3 per cent.
However, its products are still seldom seen in markets outside the Chinese mainland.
According to statistics released by the company, over 90 per cent of the company's sales are distributed in the mainland market, with a few sold in Hong Kong, and some of its main board business in Europe.
However, Lonovo launched a new 3-year business plan this month aimed at reshape its business, with a key focus on boosting overseas markets
The company also established recently a department in charge of international business, with Qiao Song-former head of its corporate business unit -- as the new boss.
And Lenovo is expected to unveil its much-anticipated business strategy to tap overseas market soon.
Last spring, the company changed its logo name from Legend to Lenovo to prepare for an overseas expansion.
Bumpy road ahead
However, analysts say Lenovo will be confronted with many "expected'' obstacles, since being IOC's global partner may nowadays be a "mission impossible'' for Chinese enterprises.
"As far as I know, Lenovo was quite reluctant to sponsor IOC's TOP programme, since the firm knows crystal clear that with its current global business presence, it may not make full use of privilege,'' Yi Jiandong, senior researcher on the sports industry at the Beijing Sports University, told China Business Weekly last week.
According to the sports business expert, who has close access to China's Olympics preparation, enterprises have to meet stringent criteria before being granted the right to participate in IOC's TOP programme and they themselves have to weigh all the pros and cons of being part of the high-profiled programme.
Generally speaking, to enlist as an IOC TOP sponsor, a firm should have branch companies or at least a business presence in more than 35 countries and regions across the world, Yi said.
"Only in this way, they can fully benefit from Olympics' global influence and can tackle worldwide promotions by resorting to that influence,'' Yi added.
Yi said there are no Chinese firms right now that are fully meet that standard, since they are either inexperienced in sports promotions or too weak to get involved in the Top 10 programme.
"Lenovo has no experience to all in sponsoring sports events, let alone such global sports gala as the 2008 Olympics.
"In my eyes, Lining Co may be better choice for the IOC. But Lining is too small in terms of business scale, with only 1 billion yuan in annual revenue (US$120.7 million).
An IOC TOP sponsor has to turn in US$60 million to win the privilege being associated with the Olympics.
And usually the firm will pour in one to three times that amount to do promotions and collect advertisements.
During the 1996 Atlanta Olympics, Coca-Cola invested nine times the amount of the sponsorship to wage a global campaign and reap a payoff of US$200 million.
"I do not think any local firm is strong or experienced enough to repeat that glory,'' Yi commented.
Then why did Levono still choose to do that, even though there is a high chance its efforts will be doomed?
"I think it has a lot to do with China's current State-oriented sports management and administrative format,'' Yi analyzed.
"What I have learnt is that the Beijing 2008 Olympics Organizing Committee and the Beijing Municipal Government have spared no efforts to push Lenovo to do that, event promising to grant some business preferential policies if Lenovo 'follows orders'.
"Why does that happen? It is just because China's sports industry is still State mandate-oriented, instead of following market principles,'' Yi pointed out.
Rights and benefits of the XXIX Olympic Games TOP sponsors
* Use of BOCOG and/or COC marks and designations for the purposes of advertising and market promotions;
* Product/service exclusivity in specific categories;
* Hospitality opportunities at the Olympic Games, including: accommodation, accreditation, tickets for opening and closing ceremonies and competition events, sponsor hospitality village, etc;
* Preferred option to purchase TV ad space and billboards during the Games period;
* Preferred option to purchase sponsorship opportunities of cultural programs and signature events such as the Torch Relay;
* Participation in sponsor workshops and observations organized by BOCOG;
* BOCOG sponsor recognition programme and acknowledgements;
* Protection of sponsorship rights via the anti-ambush marketing programme of BOCOG.
www.beijing-2008.org