Transexual steals Miss Universe-China show
(Xinhua)
Updated: 2004-03-08 15:59
The orange bikini and chocolate- color wig shone under the spotlight, outlining the enchanting figure of Chen Lili, a transexual Chinese woman, at the Miss Universe-China competition in Southwestern Sichuan Province.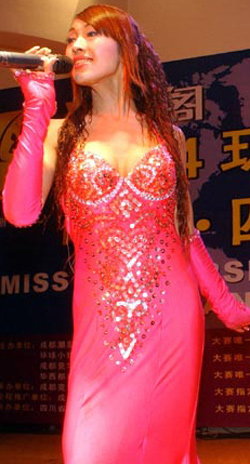 Chen Lili, a Chinese transsexual, sings during the Sichuan regional competion of Miss Universe, March 7. She was granted an oppotunity to appear at the contest to display her good shape and look. The organizers say she can not enter the next phase of the beauty pageant because she is not born a woman. [sina]

Though barred from the contest because she was born a man, Chen was given the chance to perform on Sunday and she cut quite a figure, reported Monday's Shanghai Morning Post.

Pictures showed Lili having her hair done in the dressing room, on the catwalk in a black suit with sequins all over, to the bikini show. "Chen seemed to outshine all the 37 beauty queen contestants on the stage," a paper said.

Chen was invited to address the audience before the contest. She talked about her country boy life and said she really " cherished the opportunity to perform here as it means so much to finally stand on this stage".

She performed the song "Wind Season" in Cantonese. Though trying to be feminine, her voice broke in parts, but still the audience gave her great applause.

Chen applied to enter the 54th Miss World Competition, but was denied entry in February as "it would be unfair to the other candidates if we allow a transsexual to participate", said a Sichuan official in charge of the contest.

The 1.73-meter-tall Chen Lili, formerly named Chen Yongjun, meaning "brave soldier" is a stunning fashion model in southwest China's Chongqing Municipality.

She underwent a sex change operation last November in east China's Shandong Province, and picked up the new name "Lili", inspired by a popular Korean transsexual star "Harisu", or in Chinese "He Lixiu", who is her idol.

She was registered as a woman on her national ID from the Nanchong police authority in Sichuan on Feb. 11.

As Monday is International Women's Day and Chen's first women's day, she had a list of activities with which to enjoy the occasion after Sunday's performance.

"Shopping, facial, spa, I will do everything women enjoy to celebrate my first women's festival," she said.
Today's Top News
Top Life News

China puzzled over US filing tax complaint at WTO




Chen, Annette Lu slightly wounded in shooting




Specific reform objectives set for banks




Bush urges allies to stick with united mission




Marriage bells toll in cyber churches




Chinese, French women hold dialogue