Human rights watch claims US abuses in Afghanistan
(Agencies)
Updated: 2004-03-08 08:55
U.S. forces in Afghanistan used excessive force during arrests of suspected Islamic militants, resulting in avoidable civilian deaths and possibly violating international law, Human Rights Watch said Monday.
A report by the U.S.-based group said at least 1,000 Afghans and foreigners had been detained from 2002 by U.S.-led forces in Afghanistan, some of them subjected to torture and denied the right to challenge their detention.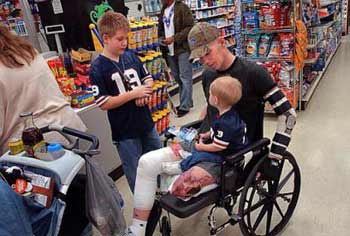 Army Stf. Sgt. Roy Mitchell of Milan, Ind., a member of the 10th Mountain division, waits in the checkout line of a convenience store with his children Zaccary, 11, left, and Jerrett, 18 months, inside the U.S. Army Walter Reed Medical Center in Washington Tuesday, Jan. 13, 2004. He was injured in Afghanistan Nov. 23rd when his humvee hit an anti-tank mine and is rehabilitating at the hospital. [Reuters]
While many have been released, some remain in detention in Afghanistan and Guantanamo Bay, the U.S. naval base in Cuba.
But a U.S. military spokesman in Afghanistan said the report indicated a "lack of understanding" of armed conflict laws.
"The (U.S.-led) coalition takes seriously now and has taken seriously in the past all reports of the use of excessive force and any inappropriate or wrongful behavior by our forces," Lieutenant-Colonel Bryan Hilferty said.
"Afghanistan is currently a combat zone, and forces here are engaged in combat operations against determined enemy forces. We apply appropriate rules of engagement for combat operations and are in full compliance with the law of armed conflict."
In criticisms echoing international condemnation of Guantanamo Bay, the report said detainees in U.S. detention centers at Bagram air base and elsewhere in Afghanistan were denied access to families, lawyers and journalists.
It also said three people had died while in U.S. custody in Afghanistan, and criticized the U.S. military for failing to investigate the deaths properly and make public its findings.
"We are currently investigating the deaths of persons under custody," said the military's Hilferty.
Around 13,000 U.S.-led troops are hunting remnants of the ousted Taliban and al Qaeda network.
Afghans accuse them of heavy-handedness, and the U.S. military admits causing civilian deaths in botched operations. Afghans say around 300 people have died this way since late 2001, but the U.S. military rejects some of the allegations.
"ALMOST TOTAL IMPUNITY"
Little is known about U.S. detention centers in the country.
"The United States operates its detention facilities in Afghanistan in a climate of almost total impunity," the report said.
Human Rights Watch quoted a U.N. official who collected complaints about U.S. operations in 2002 as saying U.S. forces used "cowboy-like excessive force" against Afghans, most of whom turn out to be law-abiding citizens.
It details the case of Ahmed Khan, a resident of Zormat district in the eastern Paktia province, whose house was rocketed and hit by helicopter machine guns in July, 2002 before Khan was arrested with two teenage sons.
Hoods were put over their heads and they were flown to Bagram base, north of Kabul, from where they were later released. During the raid a farmer was killed by gunfire and a woman hurt.
The report criticized "suppressing," or indiscriminate fire used during arrest operations to immobilize possible enemy forces. It also said U.S. troops sometimes detained all men of a military age found in the vicinity of an operation.
Former detainees complained of being photographed naked, deprived of sleep for several weeks, beaten unconscious, held in solitary confinement and shackled.
Five men held for 16 days in 2002 and later released were given the equivalent of 70 U.S. cents each by a local interpreter after an American apologized to them and promised compensation.
Human Rights Watch called on the United States to publicly identify places in Afghanistan where U.S. forces and the CIA were holding suspects, to ensure detainees were treated according to international law and to allow families and lawyers to see them.
Today's Top News
Top World News

Chinese foreign minister: China rising peacefully




HK, Macao guaranteed strong support




Table tennis brings home double happiness




China has no plan to revalue yuan soon




China to send woman into space




Ma Kai: Sizzling economy to be controlled