Mengniu Dairy expects Hong Kong flotation
(China Daily)
Updated: 2004-03-05 11:09
Mengniu, one of the mainland's largest milk producers, is expected to float soon on the Hong Kong market.
An unnamed company official confirmed yesterday the company has submitted an application for its listing on the Hong Kong market.
"We have made it (an application)," said the official from the Inner Mongolia-based company, but refused to disclose more details.
Hong Kong-based Singtao Daily quoted sources from BNP Paris, which is authorized by Mengniu to handle its listing case, that it submitted a listing application to the Hong Kong Exchanges.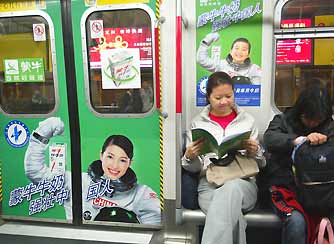 Mainland's major milk producer Mengniu Dairy is expected to float soon on the Hong Kong market soon, according to sources with the milk company base in the Inner Mongolia Autonomous Region.[newsphoto]

The listing would take place around mid-April, according to the report. Mengniu is expected to collect between HK$1.5-1.6 billion (US$192-205 million) from the flotation, the report said.

But a BNP spokeswoman refused to comment on its role in the proposed listing.

The Hong Kong market, which has seen more frequent listings by mainland companies, is ready for Mengniu's arrival.

"The market has been waiting for its share listing," said Ben Kwong, associate director of KGI Asia. "I expect the stock will be attractive as this type of stock is still rare in Hong Kong," he said.

Kwong said he was optimistic about Mengniu's earning prospects.

"After all, people have milk everyday, this signals that it is a steady business," he said, adding he estimated Mengniu would float on the stock market in two months.

Mengniu has already been available on Hong Kong's retail market and has quickly built a reputation in the fiercely competitive market.

Hong Kong investors' interest in mainland companies has continued to grow as they look to take advantage of its booming economy.

Steel maker China Oriental, which debuted on the Hong Kong market on Tuesday, attracted a massive market response, with the retail tranche of its HK$1.92 billion (US$246.1 million) share being oversubscribed 720 times.

Listing candidate Semiconductor Manufacturing International Corp, China's largest chip maker, is expected to raise up to US$1.59 billion in a dual listing in Hong Kong and New York later this month.

A number of large Chinese firms including the China Construction Bank and Ping An Insurance have indicated plans for overseas share offerings, anticipating to raise a combined US$11.7 billion.

Mengniu has long been preparing to go public, but no timetable on listing destination were available.

Mengniu Chairman Niu Gensheng said earlier that his company had listing plans when Mengniu signed a foreign investment agreement at the end of 2002.

US investment bank Morgan Stanley, CGU-CDC China Capital Partners Ltd and Dinghui Investment ploughed US$26 million into the dairy company.

"Choosing Morgan Stanley as a partner will pave the way for our overseas listing in Singapore or in Hong Kong," Niu said.

Morgan Stanley is the largest shareholder with an investment of US$18 million and this is the first time the world famous investment bank has poured money into China's dairy industry.

The company recorded 5 billion yuan (US$60.4 million) in sales last year. Mengniu announced a sales target of 10 billion yuan (US$1.2 billion) by 2006.

Mengniu, which has grown by more than 1,000 per cent in recent years, has been the fastest growing player in dairy industry.

China's dairy industry has experienced rapid development in recent years because people are using more dairy products.