Sino-French trading ties strengthened
By Zhang Jin (China Daily)
Updated: 2004-03-04 14:27
Leading French industrialist Jean-Claude Germain says trade and economic ties between China and his country will grow over the next five to eight years.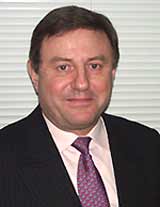 Jean-Claude Germain

Germain, the president of the French Chamber of Commerce and Industry in China, made the prediction in an exclusive interview with China Daily, in which he said the world's most populous nation was becoming all the more "magnetic" to French investors.

This year marks the 40th anniversary of Sino-French diplomatic relations, seeing ties between the two nations getting stronger as the opening of the Chinese market gathers pace as part of its World Trade Organization (WTO) commitments.

"Our two countries will enjoy a win-win situation," Germain believes.

Two-way trade volume reached an unprecedented US$13.4 billion in 2003, a year-on-year increase of 61 per cent that exceeded observers' expectations.

Germain's confidence in a brighter economic future is partly based on the warm political climate between the two countries.

"There are no diplomatic clouds on the horizon for business people," he says.

Chinese President Hu Jintao met his French counterpart President Jacques Chirac in January and they both vowed to lift economic co-operation to a higher level. The two countries decided to establish a comprehensive partnership in 1997.

And Germain believes that things will only get better with regard to trade ties between the two countries, thanks to a batch of projects that French companies and Chinese counterparts have signed or will put their names to in the near future.

These projects are mainly in the transportation, auto manufacturing and aviation sectors.

For example, France's Alstom is a major bidder for the US$12-billion high-speed Beijing-Shanghai railway.

"We are confident that French companies will keep developing their presence in China, since we have the best technology in the world," Germain asserted.

"We are in a good position to further explore the Chinese market," Germain says.

He also believes China's efforts to fulfill its WTO commitments and to integrate itself into the global market will facilitate bilateral economic ties.

"China is now fulfilling its WTO commitments in a very professional way," says Germain. "It's a win-win situation for both China and France as the country opens its market wider."

He believes French retailers can gain a stronger foothold in China's retail market, which is on the verge of fully opening up. "France has many top retailers such as Carrefour and Auchan," a proud Germain states. "China has many good products. It will be fantastic to join forces with them."

China is expected to lift almost all barriers to foreign involvement in the retail sector in 2005 under its WTO commitments.

Carrefour, the world's second- largest retailer, has opened a total of 42 hypermarkets in China. And the company began to penetrate China's underdeveloped northwestern regions last month with the opening of a new hypermarket in Urumqi, the capital of Xinjiang Uygur Autonomous Region. The retail giant purchased US$2.15 billion worth of goods in China last year, an increase of 34 per cent over the previous year.

Germain called on the Chinese Government to speed up the opening process in some fields.

Germain, also the chief representative for China of PSA Peugeot Citroen, feels that import tariffs on cars and car components remains a little high, although they will be reduced to 25 per cent by the end of 2005 under the nation's WTO commitments.

"Consumers, before deciding between a local car and an imported car, will think twice when they have to pay 25 per cent more," he says.

China's tariff on car imports dropped from 100 per cent 5 years ago to 43 per cent in 2003. And the country will cancel its auto import quota from January 1 next year, which remained at US$10.49 billion this year.

China imported 172,683 vehicles in 2003, including 103,017 passenger cars, an increase of 34.6 per cent compared with 2002.

In addition, Germain and his chamber wish to welcome more companies into China, particularly small- and medium-sized enterprises (SMEs).

"The success of Chinese economy is not only due to large firms. There are millions of small and medium Chinese enterprises working hard to play a role," the president says. "We will be glad to be a go-between for the two countries' small and medium players."

His chamber plans to establish a special office to serve French SMEs.

The office will provide French SMEs with temporary work places and help get them increasingly familiar with China's business environment.

"We are quite familiar with how to do business here. It is important for us to bring our experience to newcomers. It is also in China's interests," he declares.