Yao Ming leads China's Olympic basketball squad
(Xinhua)
Updated: 2004-03-04 09:47
NBA star Yao Ming will lead the 18-member Chinese national team at this summer's Athens Olympics.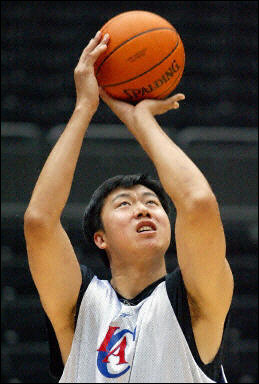 Trailblazing Chinese basketball star Wang Zhizhi's chances of earning a recall for this year's Olympic Games have suffered a setback after he was left out of a preliminary squad for Athens. [AFP]

The Chinese Baskeball Association announced the roster on Wednesday, which also includes another Chinese NBA player, Menk Bateer, who was a member of last season's NBA champions, the San Antonio Spurs.

China's first NBA player, center Wang Zhizhi is not in the line-up because of widely publicised disagreements with the Chinese basketball authorities.

Wang Zhizhi, who plays for the Miami Heat, refused to return home for the past two summers to represent his country.

The Chinese Olympic squad will begin training in mid-March without their new coach, former Los Angeles Lakers coach Del Harris, who will join the team in June at the end of the NBA season.

Meanwhile, a 33-man squad has been named to prepare for the 2008 Beijing Olympic Games, with Houston Rockets' center Yao Ming also leading the pack.
Today's Top News
Top Sports News

NPC: Taiwan referendum an "immoral" tactic




Greenspan: RMB free floating could be risky




Political advisers pledge to better people's life




More and more women saying no to abusers




Bush, Kerry open battle for White House




Baby girl becomes alcohol addict