Lovin' it: The Chinese creativity industry
(China Today)
Updated: 2004-03-03 08:46
China has demonstrated to the world its infinite potential. At present the country is gearing up to present to world industry the latest string to be added to its broad bow of success: creativity.
China's Ad Industry Boom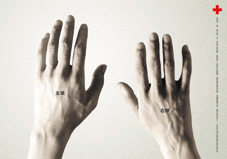 Hands are the eyes of the blind.

Since its Munich inauguration in October of 2003, television viewers worldwide have been swept off their feet and caught up in Leo Burnett China's "I'm Lovin' It" McDonald's campaign. This strategy marks a McDonald's first for following Chinese-led creative direction. "The campaign is an important milestone in McDonald's history," says Wang Jianhui, McDonald's assistant public relations manager. "These new ads have all the vital elements of Chinese spirit, music and taste, in addition to unified brand information. This global campaign has invigorated sales of McDonald's all over the world."

In recent years, Chinese creatives, as they are known in the industry, have surprised their international brethren by earning recognition at the most influential advertising competitions, such as the Clio, Cannes, Mobil, and Times awards.

China's creative history goes back centuries. The world's first print ad for Liujia Zhenpu (Liu's Needle Workshop) in Jinan City, Shandong Province dates back to the Northern Song Dynasty (960-1127). This predates the first European advertisement, a British Bible poster from 1473, by more than 300 years. By way of vivid jiaomai (verbal ads), lanterns, and jiuqi (streamers hanging in front of wine shops), to huangzi and zhaopai (signboards), Chinese creativity has been used to drum up trade for thousands of years. It is a specific art form within Chinese culture as demonstrated by the posters featuring beautiful women produced in Shanghai (calendar posters) from the 1920s to 1940s that are now collector¡¯s items.

What Killed the Creativity?


The "I'm Lovin' it" designed for McDonald's by Chinese-led creative direction.
These days the value of an advertisement lies in much more than its creative element. A good ad promotes sales and builds the brand image. In China, creativity is way down on the list of ad-making priorities. "The ad industry fluctuates according to the state of the economy, and uneven economic development has caused prolonged chaos," says Zhang Shuting, associate professor and vice dean at the International Advertising Institute (IAI), and executive editor-in-chief of China Ads Almanac. "We now know that the process of development bristles with risks of mistake and failure owing to inexperience. China's ad industry has developed and redeveloped in tempo with reforms to a noncompetitive planned economy."
Zhou Yan, executive chief-editor of Media magazine, concurs: "It has only been in recent years that the ad market has matured."
China's wildly diverse consumer landscape is the result of economic imbalance. It is a big headache for advertising firms who must work out how to vie for and hold the attention of a vast scope of consumers with starkly varying standards of living long enough to communicate new brand ideas.
A deeper creative obstacle emanates from companies careless about brand image promotion. "In China there is no brand competition, only sales competition," says Zhong Yiqian, associate professor and dean of the Advertising School of Beijing Broadcast Institute. He explains that companies are often shortsighted, conservative and focus on instant sales rather than brand building for the long term. Many prefer to hire a celebrity as brand mouthpiece for an ad that has no specific brand information pitch. "Ad companies have to under all circumstances serve their clients, catering to their taste and preferences," says Zhang. "It is not that Chinese creativity is rare, but that most of it is killed off in the ad-making process."
Glittering Prizes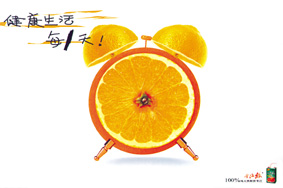 "Everyday Healthy Life with Orange juice -- rich in Vitamin C, a source of energy" won the silver award at the 8th China Advertising Festival.
"As China opens wider to the outside world, the market becomes ever more mature, in tandem with developments in the media industry. This helps provide a better platform for development in the ad industry," says Zhang. "Companies have begun to adopt original creativ e branding, which gives great impetus to the industry's overall development." An aesthetic focus does not necessarily translate into high sales. "Winning awards and international respect does not necessarily reflect an ad's market effectiveness. Panel judges are not marketing experts but artists, and so assess entries according to artistic standards rather any economic index." Zhang continues. "Clients do not aim at winning awards. They care about the ad's effectiveness in promoting their sales."
Winning awards is as much a matter of pride as it is about putting local companies on the commercial map. It also gives scope to the creative side of the industry and so strengthens cohesiveness.
The Future of Creativity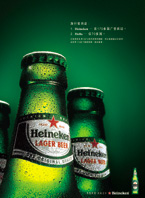 "Heineken" is popular in 170 countries, while "Hello" is available in only 70.
Most advertising award-winners are international advertising firms in China whose clients are famous international brands with experience and a mature attitude toward branding. Local ad firms struggling to stay afloat have no option but to follow the wishes of local companies that care only about sales. Says Zhang: "As the market becomes regular and mature, things become harder for ad-makers in more remote regions."
"I am optimistic about the future of China's creativity industry. As the market-driven model matures, companies will become smarter and insist upon ads with creative content. Wherever there is demand, creativity will rise to meet it.¡±
Today's Top News
Top Life News

China puzzled over US filing tax complaint at WTO




Chen, Annette Lu slightly wounded in shooting




Specific reform objectives set for banks




Bush urges allies to stick with united mission




Marriage bells toll in cyber churches




Chinese, French women hold dialogue