Raising new ideas in baby pools
(That's Shanghai)
Updated: 2004-03-02 10:19
Last November, the opening of a swimming pool for infants at the Shanghai No 1 Maternity and Infant Health Hospital drew much attention. Tang Lirong, director of the hospital, wasn't very happy with the big splash this little pool made in the local media.
"Our main purpose is to publicize and reinforce scientific health care concepts for the Chinese people. Baby pools aren't new - many hospitals have the same facilities but they just didn't publicize it as we did."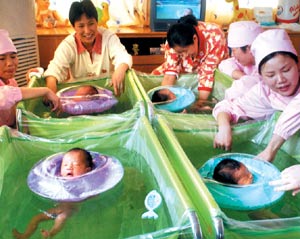 Chinese history has produced folklore traditions and some misguided practices regarding maternity issues and child rearing. The practice of swaddling babies in a limb-constricting layer of clothes (lazhu bao), considered in the past to protect babies from cold and bowed legs, as well as some practices associated with the post-natal rest period (zuo yuezi), such as a ban on hair-washing, are examples of traditional practices that can have detrimental results for both babies and mothers. "Our hospital has been working together with the WHO to get rid of lazhu bao since 1980. It is encouraging to see that many young couples have released their babies' limbs," remarked director Tang.
Measures have been taken by the government to improve the maternity and child hygiene situation in China, including opening 2,724 maternity and child-care organizations and 1,507 county-level ones, with a total of 73,000 medical technicians by the end of 1998. But according to Tang, there are still many mothers conducting zuo yuezi. "It's not easy to root up old traditions. Even though some young mothers know what is right, there are many cases where these traditions are carried out by the elder people in the family."
Zhu Zhaodi, a grandmother at the hospital confirms this. "Zuo yuezi is of course a must! I'm 65 now and I don't know any woman who doesn't do that!" But the old woman also approved of the hospital's modern swimming facility, which helps to keep babies active. "I will definitely ask my son to bring my grandchild here" said Zhu, who lives in the neighbourhood and comes here very often just to watch the playing children in the pool.
In this age of mixing traditional values with modern scientific knowledge, doctor Tang is optimistic. "Our hospital will take more measures to change people's beliefs. I believe success belongs to those who persevere!"
Today's Top News
Top Life News

China puzzled over US filing tax complaint at WTO




Chen, Annette Lu slightly wounded in shooting




Specific reform objectives set for banks




Bush urges allies to stick with united mission




Marriage bells toll in cyber churches




Chinese, French women hold dialogue