Pitting the port cities against each other
(That's Shanghai)
Updated: 2004-03-02 09:51
The old whore of the East has cleaned up her act and is attracting a whole new generation of businessmen, journalists, eager entrepreneurs and party people. Shanghai is the coolest, the hottest, the most exciting Asian metropolis - the superlatives may change, but the sentiment remains the same. And as the city rises resplendent from the ashes of its less salubrious past, it constantly invites comparison - and competition - with another Pearl of the East, the former British colony of Hong Kong.
Shanghai's recent successful bid for the 2010 World Expo, in contrast to Hong Kong's failure to capture even the 2006 Asian Olympics, is regarded by some as pregnant with symbolic significance, fuelling the rivalry between the two cities. But this competition goes back much further than that.
A Tale of Two Cities
Historically speaking, Shanghai and Hong Kong are close cousins. Being a treaty port of divided foreign concessions, Shanghai by 1930 had already become an international legend. It was a city of modern splendour and decadence set apart from the tradition-bound Chinese countryside. Hong Kong also flourished during its 99-year British rule, from a fishing village along the South China Sea to a significant commercial and financial hub. Sassy, worldly and dynamic are just a few of the adjectives that have been appropriately applied to both cities.
Though the development of Shanghai was halted during the second half of the 20th century, Hong Kong took off with an economic boom during this time, transforming itself into one of the world's greatest metropolises. Since the handover in 1997, the territory has suffered fallout from Asia's economic crises in the late 1990s and experienced rising unemployment, falling property prices and close to zero growth. Meanwhile, Shanghai is stirring again in a big way.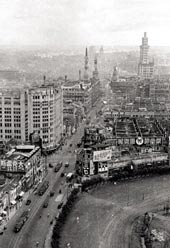 According to latest statistics from the Shanghai Municipal Statistic Bureau, Shanghai reported RMB 625.8 billion of gross domestic product (GDP) in 2003, up 11.8 per cent from the previous year. The city's foreign-invested corporations pocketed a net profit of RMB 43.7 billion in 2003, double the figure of three years ago. And a recent survey conducted by China Merchants Bank voted Shanghai as the best city to live and invest in ahead of other major Chinese cities such as Beijing, Guangzhou, Wuhan and Chengdu. Shanghai's economic boom meanwhile, is like a magnet attracting an influx of foreigners as well as people from the rest of China, injecting the city with a lively new energy and multiculturalism.
However, these impressive improvements have resulted in Shanghai coming under closer scrutiny than ever before. Doubts have been raised about its real internationalism and its status relative to Hong Kong. Is all the talk simply hype fanned by the government and media in order to attract more foreign investment? Frankly, is Shanghai overrated?
All Roads Lead to People's Square
You don't have to venture far from your front door to assess that there is still a way to go with developing Shanghai's infrastructure. Despite the breathtaking mesh of highways and flyovers, Shanghai's roadway antics with bicycles, cars and pedestrians aggressively competing with one another are still a far cry from Hong Kong's orderly streets.
"Everything works in Hong Kong. It's fast and efficient. Shanghai just isn't at the same level," says Peter Dooley, an Australian who lived in Hong Kong for three years before moving to Shanghai. He believes Shanghai lacks Hong Kong's sophistication in areas such as customer services, banking and legal structure. "But you do have to give credit to the local government. A lot of work has been done here - parks, roads and subways are being built at an amazing rate to improve the city." In fact, pushed to the forefront of China's drive for modernisation, Shanghai is developing as fast as anywhere in the world.
Manners Maketh a Metropolis
But birdlife and bitumen are not enough - nor is efficiency - to make an international city. To Xia Lin, a local TV personality, what Shanghai needs is simple. "It needs people with better social etiquette," she says. In the past 15 years, this thirtysomething has divided her life between Hong Kong, Shanghai and the United States and has come to decide that what defines a city as "international" is the "quality" of its people and culture. Take for example the fact that many local men tend to go shirtless in summer. "Hong Kong's summer is worse than Shanghai's. It's hotter and more humid, but you never see anyone take his shirt off in public. I think that shows the quality of a society," she says.
According to Xia, social etiquette is more than just manners. It is also about respect for others. "Shanghai needs to be installed with something more humane," she continues. "How can we tell people there is more to life than just making money?"
Lee Ou-fan, a preeminent specialist in Chinese studies and author of the famous Shanghai Modern, which offers an insightful view of Shanghai culture in the making, agrees that Shanghai's modern culture is not yet "sophisticated." In a recent newspaper article, Lee recorded his latest impressions of Shanghai, with a comparison to Hong Kong. "The massive glittering skyscrapers in Pudong provide just another piece of evidence to the critics of globalisation. These towering buildings are void of any cultural significance that marked, for example, New York's World Trade Centre," he writes.
Shanghai has plenty of cultural life to be consumed, says Lee, but unlike Hong Kong it hasn't enough cultural information. "I was thrilled to have found a copy of Taiwan's China Times at one tiny cafe on Hengshan Lu," Lee said. "You certainly can't expect to have things like the New Yorker or The Times Literary Supplement in Shanghai." Then again, "sophistication", almost by definition, takes time to breed.
On an Eighty-Eight Storey High
What Shanghai can offer, of course, is a palpable sense of excitement. "I can feel that Shanghai is still in a state of excitement, so overwhelmed by its own achievements. It's screaming out to the world: look how I great I am," says Norris Wong, a Hong Kong native and assistant to the artistic director of Shanghai Dramatic Arts Center. "It's all very ostentatious to me. I can see bubbles everywhere and they're bound to burst one day."
The glory here echoes that of Hong Kong in the 1980s and '90s where money flowed like water and life seemed so full of promise. That heady high ended years ago in Hong Kong as the city was hit consecutively by the Asian economic crisis, rising unemployment, falling property prices and SARS. But, according to Wong, this was when Hong Kong showed its real strength and resilience. "There's a sense of calmness in the society now. People have been doing a lot of thinking, something they never did before," she says. "It's like the whole of Hong Kong has fallen into a purification cycle for it to re-emerge as something more substantial." Wong wonders if Shanghai too needs such an opportunity for self-reflection so that it can mature into something special.
"The energy of cities like Hong Kong, London or New York comes from freedom of thinking. The freedom of being able to express yourself in different ways," she continues. "Unfortunately Shanghai, although far advanced of most Chinese cities, is still a part of the current system and it must follow the rules of the game."
Making Shanghai Special
Even Xia has to concede, however, that Shanghai does emit an addictive power. "It's growing so fast and yet there is still a lot of space for development." Many share her view. "The best thing about Shanghai is not what it can offer now, but the potential of what it can offer later. That's the hook and certainly the most intriguing part of Shanghai's character," says Danny Hui, a Hong Kong native and seasoned restauranteur who has lived in Shanghai for more than 18 years.
And really, "why does Shanghai bother to compete with any of those big cities in the world?" asks Norris Wong. "Shanghai is different. It actually has a richer culture and more historical substance than Hong Kong. It may not be as 'civilised' as Hong Kong, but it certainly has the potential to be more 'cultural.'"
The idea is similarly expressed in Lee's article. "Every time I come to Shanghai, I can sense culture and history scattered around an old street corner or a restored building. There are stories everywhere," he said. But this sense of history has been diminished in Hong Kong in the city's relentless pursuit of things to make life more comfortable and extravagant. "Yes, Hong Kong perhaps has some of the greatest restaurants and hotels in the world that provide the best service, but somehow Hong Kong's culture and history can't be found even in its latest museum," Lee argues.
So as the local government excitedly announces Shanghai's latest GDP growth, perhaps the biggest question isn't whether the city is yet a member of the international club. Nor is it about the efficiency of its subway system, the Expo, or even whether its menfolk wear designer perfume and pink shades. It seems that Shanghai's real task for the twenty-first century is to blaze its own path and become one of the world's truly unique cities.
Today's Top News
Top Life News

China puzzled over US filing tax complaint at WTO




Chen, Annette Lu slightly wounded in shooting




Specific reform objectives set for banks




Bush urges allies to stick with united mission




Marriage bells toll in cyber churches




Chinese, French women hold dialogue