China to stage Champions Diving Tour
(Xinhua)
Updated: 2004-03-02 09:47
As one of the powerhouse in the diving world, China is to stage a brand-new diving event Champions Diving Tour ahead of the Athens Olympic Games, officials from the Chinese Swimming Association (CSA) announced on Monday.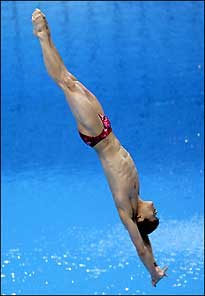 Diving for gold : China's Tian Liang dives at the final of the 10m platform during the 14th Diving World Cup in Athens' Olympic Aquatic Center. Liang won the gold medal.[AFP/file]

Sponsored by international big-name enterprises Nokia and Ford,the inaugural Champions Diving Tour plans to stage three legs thisyear: April 2-3 in Zhuhai, Guangdong province, May 21-23 in Shanghai and September 28-30 in Guangzhou, Guangdong province.

The Champions Diving Tour, which schedules three legs in the first two years and five stages starting from 2006 to 2008, sets eight events in both men's and women's as the 10 meter platform, synchronized platform, 3m springboard and synchronized springboard.

Li Hua, vice chairman of CSA, said at a press conference,"The Tour will provide more chances for both Chinese and top divers allover the world. This year, divers can take it as the springboard to the Athens Olympic Games."

Li said, as the first diving event of the kind set by CSA, Champions Tour will award each gold medalist 15,000 RMB as the prize money.

The opening Tour in April in Zhuhai will be combined with FINA World Cup series at the same time, which is expected to have 130 divers to compete.

Chinese Olympic champion Tian Liang believes the Tour will boost his confidence to defend his title in Athens.

The 24-year-old platform star said,"I like competition. The Tour gives me more chance to compete and to prepare for the Olympic Games. I believe the Olympic gold will be mine."
Today's Top News
Top Sports News

Greenspan: Free floatation of the yuan could be risky




Political advisers pledge to better people's life




Jam-proof satellite going up next year




More and more women saying no to abusers




Bush, Kerry open battle for White House




NASA: Mars had enough water for life