Cancer victim lives on in eyes of others
(China Daily)
Updated: 2004-03-02 08:48
A nurse in Badong County of Central China's Hubei Province - Wang Feiyue - has been featured in the national media over the past few months.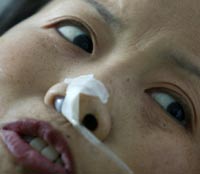 Wang Feiyue looks up from her bed in a hospital in Badong County, in Central China's Hubei Province. [file photo]

The news reached a climax last week.

With her death on February 21, Wang, 46, enabled four visually-impaired people to see again with her donated corneas.

The cornea is the clear "window" covering the front of the eye, which allows light to pass through to the retina enabling us to see.

It is a crucial element in the seeing process. A healthy cornea is clear, but it may become swollen or scarred as the result of injury, disease, infection or hereditary problems.

When this happens, the cornea's smooth surface or transparency may be lost. Any scars, swelling or irregularity in shape cause the cornea to scatter or distort light resulting in loss of vision.

Wang's eyes were fine, but three years ago she was diagnosed as having lung cancer.

Last August, her condition worsened and she knew she would succumb to the cancer soon.

The former nurse with the Badong County Traditional Chinese Medicine Hospital contacted a number of medical academies and local Red Cross organizations to find out about donating her body or her organs to science or to people in need of transplants.

However, no academies took her up on her offer. Only Wuhan, the provincial capital, has a law governing the donation of the body for medical purposes.

Eventually, with the help of the local media, she contacted the Shenzhen Lions' Club, which had established a cornea bank in 2002, in co-operation with Lions' Club International.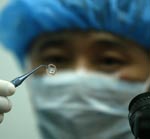 A doctor holds one of the corneas donated by Wang.

Her decision to donate her corneas aroused heated discussion in Badong, a remote mountainous county in Hubei.

Her brothers, who had donated blood to save her; her sisters, who took time off to take care of her in hospital; and her husband Zhao Shihu tried to talk her out of it.

Zhao had told the media that they couldn't bear to have their beloved one, who had endured so much suffering, go to heaven without her corneas.

But Wang was determined. She knew only too well that of the more than 4 million Chinese who are blind as a result of corneal diseases or injuries, only about 800, or one in every 5,000, have regained their sight through corneal transplants.

Her persuasiveness and courage moved her husband and her daughter, Zhao Na, 14.

On January 16, Zhao Shihu and Zhao Na signed Wang's application to donate her corneas. She immediately sent the application to the Shenzhen Lions' Club Cornea Bank.

"I have nothing to worry about," she was quoted as saying in a telephone conversation with reporters from Wuhan Evening News, the local evening newspaper with which she kept in contact about her donation.

At 2:40 am, on January 26, three doctors from the Aige Eye (Ophthalmological) Hospital in Wuhan and two journalists from Wuhan Evening News, set off for Badong County, after receiving a phone call from Wang.

"Come quickly to get my corneas," she was quoted as saying, "before it's too late."

She died at 6:00 pm, on February 21.

Her corneas were immediately removed and taken to Wuhan Aige Hospital that night.

On February 22, Dr Yao Xiaoming, a leading eye surgeon from Shenzhen Eye Hospital, using Wang's corneas, performed corneal transplants on three patients in Wuhan.

Corneal transplants can be successfully performed in some cases using only a wafer cut from the donor cornea. This meant that Wang's donation could benefit more than two recipients.

The first to receive a transplant was Zheng Lanying, 78, who lost sight in her right eye after unsuccessful cataract surgery in 1997.

The second was Chen Youlai, 40, whose left cornea was injured 33 years ago.

The third was Zhang Jing, 30, who began to suffer from corneal oedema when she was five months old.

Corneal oedema is one of the most common corneal illnesses. It involves a loss of clarity and clouding over of the cornea, due to the gradual deterioration of the endothelial cells, which normally keep the cornea clear and healthy.

Xiao Yang, 28, a young woman in Shenzhen, was the fourth patient to benefit from Wang Feiyue's corneas. The transplant was successfully completed last Tuesday, February 24, at the Shenzhen Eye Hospital.

All four transplants were successful.

Wang Feiyue is the 38th generous cornea donor listed on a chart at the Shenzhen Lions' Club Cornea Bank.

News of Wang Feiyue's final wish moved a lot of people in Wuhan. By last Friday, 15 local residents had expressed their wish to follow in the footsteps of Wang.

The first to do so was Chang Guangkun, 75. He said: "My family is very supportive of my decision to donate my corneas."

Dr Yao Xiaoming, who performed all four transplants, said China does not lack skilled doctors. What the country needs most is more people like Wang.

He himself keeps a small piece of paper wrapped in plastic in his wallet. On it he has written that in the event of his death, his corneas are to be used for transplants.
Today's Top News
Top Life News

China puzzled over US filing tax complaint at WTO




Chen, Annette Lu slightly wounded in shooting




Specific reform objectives set for banks




Bush urges allies to stick with united mission




Marriage bells toll in cyber churches




Chinese, French women hold dialogue