Chavez denounces Bush as foes fight troops
(Agencies)
Updated: 2004-03-01 09:06
Venezuelan President Hugo Chavez called U.S. President Bush an "---hole" on Sunday and told him not to meddle as his opponents battled troops ahead of a ruling on a recall vote against him.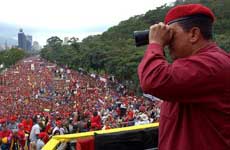 Venezuela's President Hugo Chavez looks out upon his supporters with binoculars in Caracas, Venezuela, Sunday, Feb. 29, 2004. [AP]

Chavez, who often says the U.S. is backing opposition efforts to topple his government, accused Bush of listening to "imperialist" aides whom he said advised the U.S. leader to support a brief 2002 coup against him.

"He was an ---hole to believe them," Chavez roared at a rally of supporters in Caracas.

The Venezuelan leader's comments came as fresh violence broke out on the streets of the capital where National Guard troops clashed with opposition protesters pressing for a referendum to end his five-year rule.

Military helicopters roared in low runs overhead as soldiers fired tear gas and plastic bullets to repel hundreds of opposition demonstrators who threw stones and set up burning barricades in eastern Caracas.

A soldier and a cameraman were shot and injured during the clashes and an opposition protester was wounded in the head by gunmen firing from motorbikes, witnesses and officials said. It was unclear who opened fire during the confused battles.

One demonstrator carried a banner reading: "Bye bye Aristide, Chavez you're next," referring to Haiti's leader Jean-Bertrand Aristide who fled into exile on Sunday in the face of an armed rebellion.

Electoral authorities, citing the need to preserve peace in the country, said they were postponing until Monday the preliminary results of their verification of the opposition's petition for a recall vote.

The violence broke out as tens of thousands of Chavez supporters marched on Sunday to protest what they condemned as U.S. meddling in Venezuelan affairs and to rally support for the president as he battles the referendum challenge. The firebrand Populist vowed to defeat any attempts to unseat him.

"I have to say to those here who would try to apply the Haiti formula, that Venezuela is not Haiti and that Chavez is not Aristide," he said.

The State Department routinely dismisses the president's accusations Washington supports his opponents.

WAIT FOR PRELIMINARY RULING

The referendum campaign is the latest political fight for Chavez, who survived the short-lived 2002 coup and a strike last year by opponents who fear his self-styled "revolution" is slowly turning the world's No. 5 oil exporter into a Cuba-style communist state.

Since his first election in 1998, the president has vowed to improve the lives of the impoverished who see little of the country's oil wealth. But his opponents say he has failed and has instead pushed the country into economic ruin.

Political tensions have flared again recently as setbacks delayed a ruling by the National Electoral Council on whether to allow the recall referendum to go ahead. Two protesters were shot and killed on Friday during an opposition march.

Electoral authorities said they would make a preliminary ruling Monday on whether the opposition collected the minimum 2.4 million valid signatures required for a vote. The opposition says it handed over 3.4 million signatures.

But the council is preparing to make additional checks on about one million signatures, a measure which could delay a final decision on the referendum until March.

Opposition leaders accuse pro-government officials in the electoral council of trying to block the poll by disqualifying many valid signatures. Chavez says his opponent's petition is riddled with forgeries.

The United States, a major client for Venezuelan oil, has backed efforts by the Organization of American States to negotiate an end to the political standoff over Chavez's rule.

But Chavez accuses Washington of financing his opponents. He was a fierce critic of the U.S.-led war in Iraq and has strengthened ties with states seen as hostile to the United States such as Cuba and Libya.
Today's Top News
Top World News

Pakistanis may be near bin Laden's aide al-Zawahri




Government relaxes control of airfares, finally




U.S. launches WTO complaint against China




Report: China, Iran sign US$20b gas deal




FM to pay official visit to DPRK




women bosses urged to date and marry