Unusual way to employment: Lease to a woman
By Shan Juan (Chinadaily.com.cn)
Updated: 2004-02-24 15:58
A neatly dressed man wearing glasses holds a banner reading "I rent myself to a woman." The very action soon stirred up the peaceful street in Liuzhou, a city in Southwest China's Guangxi Zhuang Autonomous Region.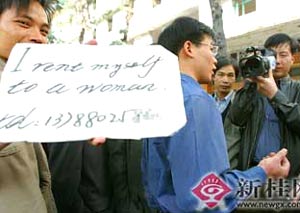 Mr. Huang explains his special job-seeking ad to reporters on a street of Liuzhou. [sina]

The 29-year-old man surnamed Huang was immediately surrounded by a crowd in the afternoon of Feb. 22. "It's just an ordinary employment ad. I can provide various services to my potential female customers such as doing house chores and accompanying for shopping. What's more I can even be her bodyguard or masseur if paid properly. I ask for eight yuan (about one U.S. dollar) per hour basically."

Sounding reasonable, the ad still sparkled hot debates and doubts. A middle-aged man questioned Huang's words. "An ordinary employment ad? Why does he confine his customer-to-be to only females."

When asked why he penned the ad in English, Huang said those who could read this ad would be of high social status and relatively noble mentality. In this way, any misunderstandings that might pop up from the ambiguous wording of the ad could be better avoided.

Huang said: "Even if paid considerably high to offer 'additional service,' I will never bend my principles on morality to do those shameful and immoral."

"I just want to live on my own labor and feed my family," he added.
Today's Top News
Top Life News

China puzzled over US filing tax complaint at WTO




Chen, Annette Lu slightly wounded in shooting




Specific reform objectives set for banks




Bush urges allies to stick with united mission




Marriage bells toll in cyber churches




Chinese, French women hold dialogue