Toll rises to 24 in Jixi coal mine explosion
(China Daily/Xinhua)
Updated: 2004-02-24 08:01
The death toll in a coal mine explosion in northeast China's Heilongjiang Province has risen to 24, rescuers said early Tuesday.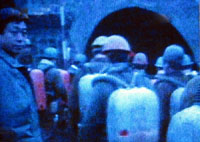 Rescuers are still searching for the 13 workers trapped at the Baixing Coal Mine in Jixi City, said Vice Mayor Xu Zhenlin.
"Their chance of survival is slim" as high concentration of poisonous gas in the air and collapsed rocks make the rescue operations underground extremely difficult, said an expert with the rescue headquarters, who refused to give his name.
"The rest of the workers are unlikely to survive, because of the high concentrations of toxic gas,'' Tian Guiyou, an official with local work safety bureau in Jixi told China Daily.
A total of seven rescue teams, each consisting of 10 rescuers, have been working in the shaft in turns. None of the bodies has been brought to the ground because the shaft is almost blocked and the failed ventilation system has not been repaired.
The blast occurred at 6:10 a.m. Monday when 37 miners were working in the shaft about 300 meters below the ground. Seven of them are from Sichuan Province in southwest China and the rest are all local residents. Jixi Mining Group is a State-owned enterprise with about 70,000 employees.
Wang Shijun, who runs the mine, has been put under custody, a police officer said.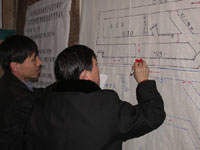 Liu Haisheng, vice governor of the province, and Wang Dexue, deputy director of the State Administration of Work Safety, have rushed to the mine to guide the rescue work and supervise the investigation into the cause of the explosion.
Baixing Coal Mine under Jixi Mining Group, located in Lishu District, has an annual designed production capacity of 60,000 tons. It defied an order to halt production issued by the provincial work safety department earlier this month when some hidden dangers for work safety had been revealed in the mine.
It is not the first time Jixi, a mountainous city bordering Russia, has hit the national headlines for accidents in its coal mines.
On June 20, 2002, an accident claimed 124 lives, including the Jixi Mining Group's General President Zhao Wenlin.
The group once put out 20 million tons of coal in 1991, ranking it within the country's top 10. The coal mining industry contributes up to 40 per cent of Jixi's local GDP and supports about half of the city's population.
But the pillar industry has been losing ground the past few years as costs have grown higher its traditional market has been invaded by powerful competitors in Shanxi Province.
As a result, many medium and small-sized coal mines in Jixi that engaged in abusive mining aimed at fast money and ignored safety standards have been closed.

Today's Top News
Top China News

Office: Beijing watches Taiwan developments closely




State tightens farmland protection




Doctor starts 49-day fast to test TCM regimen




Fighting follows Afghan minister's killing




China values military ties with neighbors




Dads ask: 'Is this my child?'