Web fans idolize 'Idol' reject
(Agencies)
Updated: 2004-02-21 16:50
The "American Idol" judges said William Hung bombed with his gotta-see-it-to-believe-it rendition of Ricky Martin's "She Bangs."
But rejection turned out to have a silver -- maybe even platinum -- lining. In the weeks since he got booted by the TV talent show, the 21-year-old Hung has become an insta-Net celebrity, sought after by talk shows, record producers and Idol dreamers everywhere.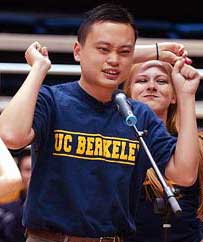 William Hung performs the Ricky Martin song "She Bangs" during halftime at a University of California volleyball game Wednesday. [AP]

By now, unless your TV set is permanently tuned to PBS, you've probably seen Hung in action -- arms waving over his head, hips following the beat of an entirely different drummer as he cheerfully attacks Martin's song.

The song fights back; the song wins. And yet the mild-mannered civil engineering student is undeniably charming, his reedy tenor bringing a boyish exuberance to the sexy lyrics.

"I love him! I love him!" a laughing Ellen DeGeneres told her talk show audience after Hung came on to perform an abbreviated version of "Shake Your Bon Bon," another Martin song (Hung is a huge fan).

What has people so hung up on Hung? Is it the shy, toothy smile? The accent? The dance moves, just a few funks short of funkadelic?

His fans say it's all that, combined with his fearless -- or clueless if you ask caustic "Idol" judge Simon Cowell -- pursuit of an unlikely dream.

"He's not full of himself. He's just down-to-earth," says Andrea Michaelian, a San Francisco, California-area teenager who with a friend created www.williamhung.reallyrules.com. "He's like an unintentional celebrity so it's cool."

Hung, who was born in Hong Kong but moved to Southern California with his family as a child, has always been interested in music. But he was concentrating on a steadier line of work, studying at the University of California, Berkeley, until he won a dorm talent contest singing, of course, "She Bangs."

Last September, he decided to try out for "American Idol" in San Francisco, appearing before judges Cowell, Paula Abdul and Randy Jackson.

It didn't go well. Cowell stopped him with a curt, "You can't sing, you can't dance, so what do you want me to say?"

Some contestants argue when they get the Cowell cutoff; others cry. Said Hung, "I already gave my best and I have no regrets at all."

The judges were disarmed but not swayed by his cheerful sincerity. Producers put the segment on the air as an example of how not to be -- part of the show's appeal, especially in the early rounds of competition, is watching hopefuls crash and burn.

But Hung was different, evoking more support than schadenfreude.

"Everyone's having fun with it," says Jared Levy, a fellow UC-Berkeley student. "It's completely different from everyone else's auditions who didn't make it. He said, `You know what? That's OK."'

Levy, a Cal volleyball player, was so impressed by Hung that he invited the 21-year-old to sing at a game this week, drawing a crowd of hundreds.

"Will! Will! Will!" they screamed as Hung launched into "She Bangs" with the backing of a sextet of nubile young dancers calling themselves The Movement. (A key move turned out to be avoiding getting walked into by Hung.)

The crowd went wild.

"It makes you want to follow your dreams, no matter how bad you are, or other people think you are," said Danielle Navarre, a Berkeley junior who captured the performance on her digital camera.

Afterward, Hung said his experiences have taught him "a lot about how to handle adversity and how to handle a more high-tempo lifestyle."

Fame has made it hard for him to walk around campus without someone recognizing him. Some yell out a cheerful "She bangs!" He admits to struggling with his studies.

Still, Hung is determined to graduate as planned and is still calling music his hobby. The music channel Fuse and New York-based record company Koch Entertainment offered him a record contract and music video production deal, but the offer, made just after Hung's volleyball singing gig, drew a polite smile but no immediate acceptance.

He's grateful for fan support and the thousands of people who have signed online petitions trying to get American Idol to invite Hung back. Reportedly, the show wants him for the "loser" special, "Uncut, Uncensored and Untalented." Hung was noncommittal about that possibility.

Hung seems to suspect some people are laughing at him, not with him, but he's not letting that get him down. He's taking singing lessons and says every time he sings "She Bangs," "there's always something to work on, something to improve."

There's a touch of irony there, since some might argue it's the triumph of enthusiasm over experience that makes Hung so appealing.

But Michaelian is one fan who believes in his pop potential.

"An entertainer is somebody who makes you smile," she says, "and that's what he does."
Today's Top News
Top Life News

China puzzled over US filing tax complaint at WTO




Chen, Annette Lu slightly wounded in shooting




Specific reform objectives set for banks




Bush urges allies to stick with united mission




Marriage bells toll in cyber churches




Chinese, French women hold dialogue