Wang Qishan elected as mayor of Beijing
(Xinhua)
Updated: 2004-02-21 13:34
Wang Qishan was elected on Saturday morning as mayor of Beijing at the second session of the 12th Beijing Municipal People's Congress that opened on Monday.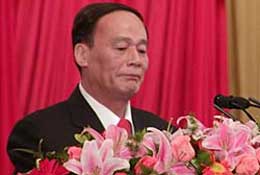 Wang Qishan, newly-elected mayor of Beijing [China Daily]

Wang was made acting mayor of Beijing on April 22 last year in accordance with a decision made by the Standing Committee of the 12th Beijing Municipal People's Congress.

According to Chinese laws, the standing committee of the people 's congress at the local level is authorized to appoint local officials up to the position of deputy heads. Only the annual plenary session of the people's congress is entitled to elect head of the local government.

Wang, born in July 1948, was a native of Tianzhen in Shanxi Province, north China. He joined the Communist Party of China (CPC) in 1983.

In 1969, Wang was sent to the countryside to work as a farmer in neighboring Shaanxi Province. He served the Shaanxi Provincial Museum in 1971-1973, graduated from the History Department of Northwest China University in 1976, and began to work in the Institute of Modern Chinese History of the Chinese Academy of Social Sciences in 1979.

Wang worked in the rural policy and development research centers of the Secretariat of CPC Central Committee and the State Council between 1982 and 1986.

Wang served as general manager and Party secretary of the China Rural Trust and Investment Company in 1988. He was appointed as vice president of the Construction Bank of China in 1989, and became vice governor of the People's Bank of China in 1993 and president of the Construction Bank of China in 1994. He was elected president of the Chinese Investment Society in 1995.

In 1997, Wang became a member of the Standing Committee of the CPC Guangdong Provincial Committee, and was elected vice governor of Guangdong Province in 1998.

Wang was appointed director of the Economic Restructuring Office of the State Council in 2000, and secretary of the CPC Hainan Provincial Committee in 2002-2003. He was elected chairman of the Standing Committee of the Hainan Provincial People's Congress in January 2003.

Wang was made acting mayor of Beijing and deputy secretary of the CPC Beijing Municipal Committee in April 2003.

Wang is chairman of the organizing committee for the Beijing Olympic Games slated for 2008.

He is an alternate member of 15th CPC Central Committee and member of 16th CPC Central Committee.
Today's Top News
Top China News

China plans to put two people into space in 2005




Japan groups: learn the lessons of history




Bin Laden cornered in Pakistan's northwest




Official: Grasp opportunity to realize peace




Mayor: Traffic problem won't impede Beijing Olympics




China suspends crude oil exports to Japan