Bigger role for private sectors
By GAO HUIQING (China Business Weekly)
Updated: 2004-02-19 15:47
China's economic growth will continue to be powered by strong investments in the coming 20 years, but the sole government-funded investment model needs to be replaced by a more healthy incentive from private sectors.
Last year's stunning gross domestic product (GDP) growth of 9.1 per cent has been attributed to very strong government-funded public investment. However, an overheating of government investment could result in many problems for the nation's long-term development.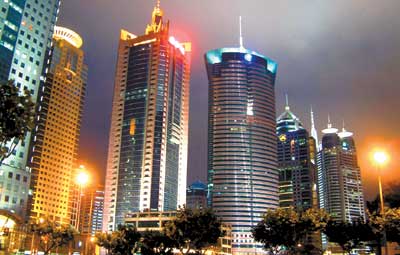 Investment under the government's guidance will lead to the application of "GDP-only" criteria.
The GDP-oriented growth model will not always stimulate the growth of social welfare and could actually reduce it.
In some places, projects initiated by previous top officials ceased after a change of leadership. Investment in resources brought up the GDP growth, but no genuine profits were gained.
Furthermore, to attract foreign funds, some local governments sacrificed farm land to industrial production, disregarding the future development of regional economies.
Such investment may succeed in the short term, but will lead to the loss of long-term interests. And the economy's sustained development will be harmed.
Additionally, the economy's structural balance is also easily overlooked when people are fixated on achieving solid GDP growth.
Not only reckless investment from the government, but also too many loans from banks will cause problems.
Xia Bin, head of the financial institute of the Development and Research Centre of the State Council, said a 23-per-cent growth of bank loans last year will drive up GDP by over 10 per cent this year.
State-owned banks have, to a great extent, been increasing loans to reduce the bad loan ratio. But the short-viewed increase of loans will cover up financial risks in the future.
"Commercial banks must be cautious. New loans can reduce the bad loan ratio, but problems will show up when companies are unable to pay them back in one or two years," said Xia.
But strong investment from private sectors could prop up a more efficient and sustainable economic growth for China in the long run.
Private investment has long been ignored, and was always considered a minor factor in the economy. After 20 years of accumulation, large-scale funds have been established. In 2003, with favourable local government terms and a new round of economic growth, private funds were largely transfused in some fields where State-owned enterprises withdrew.
Private funds were not only involved in such traditional sectors like light industries and services, but also in heavy industries. They play a major role in the investment of steel and automobiles. The growth rates were as high as 130 per cent and over 70 per cent, respectively.
A majority of the 56 steel companies around Tangshan City, an industrial hub in North China's Hebei Province, are privately-funded. And in Zhejiang Province alone there are more than 40 private enterprises engaged in the automobile industry.
Additionally, with the quick withdrawal of State-owned enterprises from market competition, private and foreign-funded investment is provided with more opportunities.
Industries related to public sectors bring stable benefits, so they were more or less monopolized by State funds previously. After the government's approval, private and foreign-funded investment began to step into such sectors as aviation, ports, education, culture and civil affairs.
Although China encountered many tough challenges in 2003 - including the outbreak of severe acute respiratory syndrome, or SARS, pressure to revaluate its currency and inflows of "hot money" from overseas - it came out with its highest GDP growth since 1997, a per capita GDP of US$1,090 and a gentle increase in commodity prices, all good signs for a healthy economy.
Moreover, China's robust growth does not only benefit itself, but also contributes much to the world's economic recovery.
Many signs show that the ongoing recovery of the global economy is, to some extent, being fuelled by China's strong economic performance. China's contribution becomes more evident when reviewed from its imports balance sheet - US$412.8 billion in 2003, up 39.9 per cent over 2002.
Within China's import pools, the most dominant were raw materials, such as steel and iron ore. China has become the consumer of one-third of the world's tradable iron ore and more than 55 per cent of the cement produced globally.
The massive imports from other economies have greatly propped up their economic performance.
International industrial restructuring has also provided a favourable climate for the development of private and foreign-funded investment in China.
China's advantages in manufacturing have enticed overseas investment in this sector. Stable development in the future, qualified and cheap labourers, solid industrial basis of various kinds and a large domestic market will give manufacturers in China enormous competitiveness. Therefore, international automobile makers last year marched into China en masse.
Domestic industrial upgrading has also promoted investment in the country's less developed regions.
As a consequence of fast-growing highway construction over the past decades, a network linking eastern China and western China has gradually formed.
It is the network that will channel investment from eastern coastal areas to the inner regions because of cheaper costs.
The industrial development will make China "the world factory" and lead to the upgrading of its industrial structure.
The focus of China's industrial structure has transferred from light industries to mechanical and chemical industries. And it is preparing to make the next leap, to the high-tech industry.
During the change, several factors have played positive roles, such as urbanization, an upgrading of the consumption structure, international industrial restructuring and the introduction of private investment.
The rapid development of heavy industry requires the support of more investment. Moreover, its development will drive the growth of relevant industries.
The author is a researcher with the State Information Centre's Development and Research Department.
Today's Top News
Top China News

China works to address U.S. concern on trade deficit




China, EU consolidate partnership




New planetoid Sedna discovered




Two Chinese abducted by rebels in Sudan




China, France hold joint naval drill




Pakistan kills two dozen terror suspects