Bar owner jailed 8 years for gay prostitution
(Xinhua)
Updated: 2004-02-19 07:51
Li Ning, a bar owner in Nanjing,capital of east China's Jiangsu Province, was sentenced to eight years in prison on Tuesday for organizing a homosexual prostitution ring, court officials said after a closed-door hearing.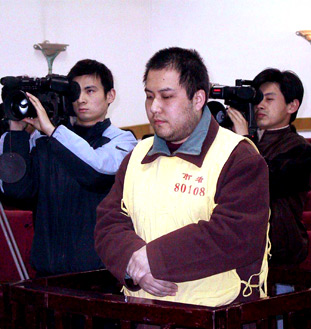 Nanjing bar owner Li Ning (center) was sentenced to 8 years in prison for organizing homosexual prostitution. [Newsphoto]
Li was also fined 60,000 yuan (US$7,300).
The People's Court of Qinhuai District in Nanjing found that Li,who runs the "Zhengqi Bar" in a downtown area of Nanjing, hired young men as prostitutes to work at his bar from January to August 2003, and pocketed more than 100,000 yuan (US$12,000) in profit.
Li, 33, a homosexual himself, was a shareholder in the "Hongdu Bar" in downtown Nanjing, which was closed by local police in 1999 for staging erotic shows.
In January 2003, Li, disturbed at declining business, began to introduce male prostitutes to his homosexual customers.
In street posters and recruitment ads in local newspapers, Li said he was looking for handsome young men to work as public relations clerks, the court found.
Li soon recruited a group of 18 and 19-year-olds, most of whom were heterosexuals, but accepted the job. Li charged them a deposit of 300 yuan each, but most of them were able to earn at least 200 yuan a day.
Li was arrested in a raid in August 2003 when his business started to boom, but was released for a while because police could not decide whether the law applied to Li's case, as homosexual prostitution was rarely seen in this country.
The case was reported to the Standing Committee of the National People's Congress, China's top lawmaking body, and its legal affairs committee ruled in October that Li should be prosecuted, because all mercenary sex acts, between homosexuals or heterosexuals, were against the law.
Wang Zhiming, another organizer of male prostitution, was sentenced to three years in prison and fined 3,000 yuan by a Shanghai court in July 2003, according to an earlier report in the Nanjing Daily.
Today's Top News
Top China News

China works to address U.S. concern on trade deficit




China, EU consolidate partnership




New planetoid Sedna discovered




Two Chinese abducted by rebels in Sudan




China, France hold joint naval drill




Pakistan kills two dozen terror suspects