Kerry edges out Edwards in Wisconsin primary
(Agencies)
Updated: 2004-02-18 13:35
John Kerry squeezed past hard-charging John Edwards on Tuesday to win Wisconsin's primary, gateway to a 10-state, two-man showdown March 2. Howard Dean, his candidacy doomed, considered endorsing one of his rivals.
Clinging to a six-point lead, Kerry said, "A win is a win."
Edwards, his dream of a head-to-head matchup now a reality, declared, "We'll go full-throttle to the next group of states."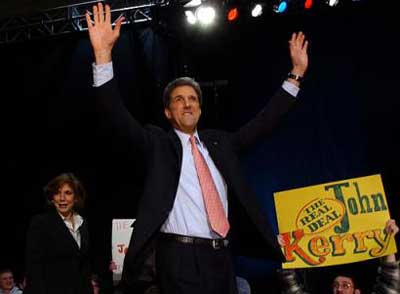 Democratic presidential hopeful Sen. John Kerry, D-Mass., raises his arms as the takes the stage with his wife Teresa during an election night party in Middleton, Wis., Tuesday evening Feb. 17, 2004. [AP Photo]
The North Carolina senator pledged to campaign in California, New York, Ohio and seven other states holding primaries or caucuses March 2. At stake will be 1,151 delegates, more than half the total needed to claim the nomination.
Edwards' breakout was fueled by the highest Republican turnout of the primary season and voters who made their decision in the last week. His deepest support was in the GOP suburbs of Milwaukee.
"That's been happening in other primaries, too," Edwards told The Associated Press in an interview. "Republicans who would consider voting Democratic and independents are the people we have to win over to win the general election. That's why I'm the best candidate to take on George Bush."
Kerry held a wide lead in pre-election polls, but the surveys did not fully reflect voter sentiments after a statewide debate Sunday, Edwards' criticism of Kerry's free-trade policies and two newspaper endorsements for Edwards. Nor did the polls take into account 11th-hour criticism of Kerry from U.S. President Bush's re-election team.
"We underwent a lot of Republican attacks the last week. Notwithstanding those attacks, we showed we can fight back," Kerry said.
With Wisconsin, Kerry has won 15 of the 17 elections — seven by nearly half the vote — on the East and West coasts, in the Midwest, the Great Plains and the Southwest. He remains the undisputed front-runner, flush with money and momentum heading toward three contests Feb. 24 in Utah, Idaho and Hawaii and then the delegate-rich elections March 2.
But the Edwards surprise ended any hope for a quick conclusion to the race. A poor second-place showing would have crippled his campaign.
Dean ignored pleas to give up the fight. "We are not done," he told his supporters, even as his own advisers were saying his campaign for the presidency was effectively over. He headed home to Vermont to regroup, in search of a way to convert his political network into a movement that helps elect Democrats.
Senior advisers, speaking on condition of anonymity, said Dean was considering dramatically scaling back his campaign with no hope of winning the presidency. He was just as likely to cede the nomination and, with hopes of becoming a kingmaker, endorsing a rival.
Dean called both Edwards and Kerry to discuss his next step, sources in all three campaigns said. The conversation with Edwards was said to be warm and friendly, aides to Dean and Edwards said, adding that it was inconclusive.
Advisers said Dean believes his fund-raising prowess could help reshape the race if he throws his support behind Edwards. But they did not rule out Dean endorsing Kerry, a move they said could seal the nomination for the Massachusetts lawmaker.
Counting Wisconsin, Kerry has pocketed 608 of the 2,161 delegates needed to secure the nomination, according to an analysis by The Associated Press. Dean had just 201, Edwards 190 and Al Sharpton 16.
With 99 percent of the precincts reporting, Kerry had 40 percent, Edwards had 34 percent, Dean 18 percent, Rep. Dennis Kucinich of Ohio 3 percent and Al Sharpton 2 percent.
Buoyed by his hot streak, Kerry took two days off last week and ignored his rivals in Wisconsin while focusing on Bush in hopes of persuading voters the nominating fight was over.
"Not so fast, John Kerry," Edwards said in Sunday's debate, five words that may best sum up the impact of Tuesday's results.
Exit polls showed that half of the voters made their selection in the last week, most in the last few days — and Edwards led among late-breakers. Taking advantage of Wisconsin's open primary rules, one in 10 voters were Republicans and about 30 percent were independents. Those voters broke for Edwards.
The strong GOP turnout was boosted by city government elections in Milwaukee and a controversial referendum on casino gambling by an Indian tribe.
Primaries in Georgia, Ohio and Vermont on March 2 will be open to all voters as will the caucuses in Minnesota. Edwards called for a one-on-one debate with Kerry before next month's showdown.
Kerry plans to compete in every March 2 state, airing ads where Edwards is faring well in polls or buying TV time. Edwards intends to target Ohio, New York and Georgia, airing ads in upstate New York and large sections of the other two states.
First, he needs to raise money. Edward issued an e-mail appeal Tuesday, telling donors, "Every single contribution" counts.
Aides say Edwards' populist message will resonate in Ohio and upstate New York, areas hard hit by job losses. The Southern-bred candidate also should do well in Georgia. California is by far the day's biggest prize, with 370 delegates, followed by New York with 236.
"He's got a good heart," said Edwards voter Bill Lohr, 50, of Sun Prairie, Wis. "Kind of like Bill Clinton got us rocking."
In the final days of the Wisconsin race, Edwards criticized Kerry's support for the North American Free Trade Agreement. The message found a receptive audience: In exit polls, three-fourths of voters said trade with other countries takes jobs from the United States.
Edwards and Kerry split the vote among those voters, though the North Carolina senator did better than the front-runner among voters who cited the economy and jobs as top issues.
The most important issues for voters in Wisconsin were the economy and jobs, chosen by almost four in 10 in exit polls conducted for the Associated Press and television networks by Edison Media Research/Mitofsky International.
Today's Top News
Top World News

Party corruption fight gets tougher




Kerry edges out Edwards in Wisconsin primary




Putin watches as missile launch fails




China, US talk on ways to halt weapons spread




AIDS battle taken closer home




2,500 gay couples rush to wed, rulings seen