Man who killed 67 people executed
(chinadaily.com.cn)
Updated: 2004-02-14 17:17
One of China's worst serial killers, a man who murdered 67 people and raped two dozen women in a four-year crime spree, was executed in Central China's Henan Province Saturday.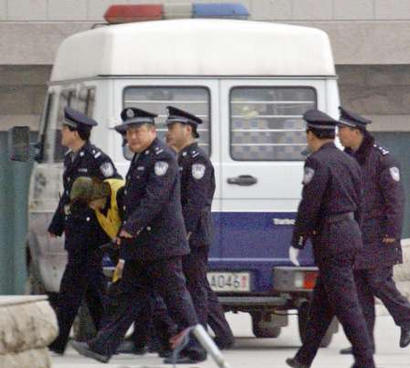 Chinese police escort serial killer Yang Xinhai, 38, into Luohe City Intermediate People's Court in Central China's Henan Province, February 1, 2004. [Reuters]
Yang Xinhai, 35, was sentenced to death on Feb. 1 by the Luohe City Intermediate People's Court in Henan, Xinhua News Agency said.
Yang had not appealed against the sentence, the report said.
Yang, who was described as a very "insidious" criminal by police, used tools such as an iron hammer or a meat cleaver to murder entire families during his rampage across four provinces.
Since 1999 had moved around and committed crimes in 26 cases in rural areas of Henan, Shandong, Anhui and Hebei provinces. He was arrested in November 2003 in Cangzhou City of north China's Hebei Province.
Police said Yang usually carried out criminal actives at night and cleared the scenes of crime before he ran away. Each time, he wore new clothes and shoes with larger size than his own.
Yang had been imprisoned twice on charges of burglary and rape, and turned to murder after his release in 1999.

Today's Top News
Top China News

CCTV restructuring proof of media reform




Bank of China floating huge bond offering




Jilin governor apologizes for fatal blaze




Moscow police stop raiding Chinese stalls




Senator Kerry blasts Bush, leads in primary




U.S. navy jet fighter F18 is for sale on eBay