NBC to air Princess Diana's secret tapes
(Agencies)
Updated: 2004-02-14 11:09
More than six years after her death, audio and videotapes Princess Diana secretly recorded during her ill-fated marriage to Prince Charles will get their first public airing next month on NBC, the network said on Thursday.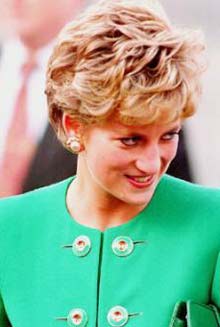 NBC said it would present excerpts of the audio tapes, the principal source for Andrew Morton's 1992 international bestseller "Diana: Her True Story," and separate video footage taken of her during the same period, in a special two-part broadcast set for March 4 and March 11.
The two-hour documentary, titled "Princess Diana: The Secret Tapes," also will feature interviews with some of Diana's closest friends and confidants, NBC said.
An NBC spokeswoman said the video comes from an hour of footage shot by a "professional associate" of Diana's with her permission between September 1992 and December of 1993, a period when details of her troubled marriage had already come to light in Morton's book.
NBC said the footage shows a "relaxed, candid Diana at times laughing and interacting with her young sons, illustrating the lighter side of a woman who maintained a very reserved public persona."
The audiotapes, by contrast, offer an exclusive account, in Diana's own voice, of her life before becoming a princess, her long struggle with bulimia, her suicide attempts, the heartache over her husband's infidelity and her strained relations with other members of the Royal family.
Those recordings, about seven hours of taped responses to Morton's written questions, were secretly made in Kensington Palace in 1991 during a series of interviews conducted through an intermediary.
They formed the basis of Morton's 1992 book, which demolished the myth of Diana's fairy-tale marriage to Charles and triggered a chain of events that led to their divorce in July of 1996.
But it was only after Diana's death in a Paris car crash in 1997 that Morton revealed she had collaborated with him on the biography. A revised version of the book, "Diana: Her True Story in Her Own Words," was released weeks after the fatal crash containing edited transcripts of the recordings.
But NBC said those tapes, like the video footage the network has acquired, have never been heard by the public. The General Electric Co.-owned network did not disclose exactly how it acquired rights to the material.
Today's Top News
Top Life News

Zoellick: US can't close door to Chinese goods




US, N. Korea bilateral contact lasts one hour




Capital, Hebei in row over river water use




Referendum provokes rise in tension




Import of two Isuzu autos suspended




Farmers to get direct subsidies from the state