Giant Yao Ming strikes Mac deal
(China Daily)
Updated: 2004-02-13 22:14
Famed Houston Rockets basketball star Yao Ming slam-dunked a Mac-deal on Friday.
China's Yao and McDonald's announced a multi-year global partnership deal in Los Angeles.
"Yao Ming personifies what the McDonald's brand is all about -- a youthful, fun, dynamic spirit which connects to today's customers and cultures," said Larry Light, McDonald's Executive Vice-President and Global Chief Marketing Officer.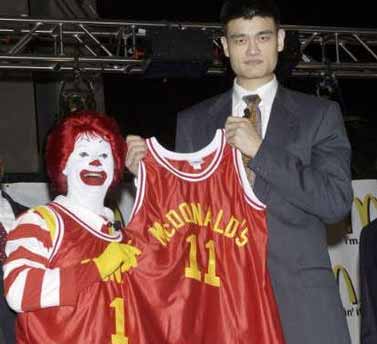 Yao Ming (R) poses with Ronald McDonald after being presented a jersey following the announcement of a multi-year global partnership with McDonald's at the Staples Center in Los Angeles, California February 12, 2004. [Reuters]
"His unique, larger-than-life personality and appeal transcends borders and makes him a perfect fit for our new global outreach to consumers," Light said in a news release from the Beijing McDonald's Food Co Ltd.
"I have always been a big fan of McDonald's ever since the first restaurant opened in China 10 years ago," Yao was quoted as saying in the release.
"To be a part of such a great brand with the ability to positively touch millions of people around the world is a real thrill for me. And, I share McDonald's commitment to being the best, both as an athlete and as part of the broader world community," the "little giant" added.
According to Light, Yao will play a key role in McDonald's Global Marketing plans, with emphasis in such areas as physical fitness and activity, Olympics initiatives, and the ongoing "i'm lovin' it" marketing events and customer communications.
He will also lend his support to Ronald McDonald House Charities and its work on behalf of children worldwide.
"You can expect to see him (Yao) representing our brand in a number of fun and surprising ways all around the world," Light said.
Eric Foo, managing director of McDonald's China, said Yao is a wonderful role model for people of all ages and his company looks forward to working closely with him.
As McDonald's has already gained enormous popularity among Chinese consumers, many Chinese consider the partnership with Yao will add much to its popularity.
"I think as Yao is now the spokesman for McDonald's, the fast-food company will definitely become even more popular among Chinese people," said Xia Xiaofeng, a resident in Shanghai, Yao's hometown.
"Yao's appeal is especially huge among young people, who regard him as a big success and model of life," Xia said.
He added that the partnership will also help spread Yao's fame throughout the world given McDonald's strong presence worldwide.
But another Shanghai resident Tie Feng, admitting the partnership will have positive impact for McDonald's business, said it was not a good idea for Yao to become the spokesman of McDonald's.
"I think as an athlete, he should establish partnerships with brands in the sports circle," Tie said.
Yao's contract with McDonald's was signed just after Houston's 102-87 victory over the Los Angeles Lakers on Wednesday. Yao himself had 29 points and 11 rebounds in the game.
The game was of special meaning for Yao because he outplayed Lakers' Shaquille O'Neal, who finished with 24 points and nine rebounds.
Today's Top News
Top China News

CCTV restructuring proof of media reform




Bank of China floating huge bond offering




Jilin governor apologizes for fatal blaze




Moscow police stop raiding Chinese stalls




Senator Kerry blasts Bush, leads in primary




U.S. navy jet fighter F18 is for sale on eBay