Israel to shun world court hearing on barrier
(Agencies)
Updated: 2004-02-13 09:43
Israel said on Thursday it would not attend a World Court hearing on whether it should tear down a barrier taking in Jewish settlements on occupied West Bank territory that Palestinians want for a state.
Israeli officials say the barrier being erected inside the West Bank is meant to keep out suicide bombers and has thwarted dozens of attacks. Palestinians call it a bid to annex land they need for a viable state since it snakes deep into the West Bank.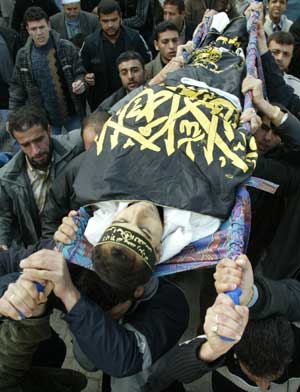 Palestinians carry the body of Islamic Jihad militant Mohammed al Ajlah February 12, 2004, who was killed by Israeli troops yesterday, during his funeral in Gaza. Hamas militants on Thursday vowed large-scale suicide attacks on Israelis "everywhere" to avenge the killings of 15 Palestinians in the most lethal Israeli military strike in the Gaza Strip since 2002. [Reuters]

The stalemate underlined the paralysis in Middle East peacemaking and came a day after Israel killed 15 Palestinians in a major army assault into the Gaza Strip, triggering vows of large-scale suicide attacks by vengeful Palestinian militants.

Prime Minister Ariel Sharon's office, announcing the abstention, said special legal advisers feared the World Court session would lend credence to a case that Israel sees as politically motivated and beyond the tribunal's jurisdiction.

Israel would make do with an affidavit it filed with the court last month outlining these misgivings, the office said.

A court spokeswoman said hearings would go ahead as planned.

Any ruling by the tribunal, based in The Hague, would be non-binding, but Israel fears a finding against it would be so influential as to spawn U.N. Security Council action against it.

The World Court hearing, due to begin on February 23, was scheduled at the request of the U.N. General Assembly, where pro-Palestinian sentiment is strong. But the barrier has drawn broader criticism, including from Britain on Thursday.

"I hope this Israeli decision will not affect the court's endeavor to carry out its obligation," Palestinian Labor Minister Ghassan al-Khatib said.

Wednesday's Gaza violence damaged efforts to arrange an Israeli-Palestinian summit in the hope of reviving a U.S.-backed peace plan and came amid signs of Israeli army concern about Sharon's plan to remove settlers from Gaza.

"The Israeli enemy knows it has a losing case," Sheikh Ahmed Yassin, founder of the Hamas militant group, told Reuters.

REVENGE

Hamas's armed wing, the Izz el-Deen al-Qassam Brigades, urged its cells in all West Bank and Gaza cities and refugee camps to carry out "major martyrdom operations" as retribution for Israel's most lethal assault into Gaza since 2002.

"All options are open to hit the enemy everywhere in Palestine," it said in a statement. The Israeli army said Hamas later fired a rocket from Gaza into Israel. There was no damage.

Islamic militants seek Israel's destruction. The mainstream Palestinian Authority backs co-existence in a state in the West Bank and Gaza -- lands Israel captured in the 1967 Middle East war -- as called for by the U.S.-led peace "road map."

Palestinian Prime Minister Ahmed Qurie condemned the Gaza assault as "a crime" and said it would hurt dialogue to set up a meeting with Sharon that Washington deems critical to saving the road map from oblivion.

Israel defended the incursion as a strike against militants who frequently fire rockets and mortars at settlements and target their corridor roads into and out of Gaza. At least 10 of the 15 Palestinians killed were militants, witnesses said.

British Foreign Minister Jack Straw, who hosted Israeli Defense Minister Shaul Mofaz on Thursday, voiced concern over excessive use of force in the Palestinian territories.

A British Foreign Office spokeswoman said Straw also "reiterated our opposition to the building of a fence on Palestinian land which we consider unlawful."

Israel went on high alert for possible suicide attacks after the Gaza assault, with increased police patrols and checkpoints. But military raids went on regardless of militant threats.

Troops shot dead a wanted Hamas man in a West Bank village near Ramallah on Thursday when he tried to flee arrest, an army spokesman said. In Gaza, troops shot dead 12-year-boy near a border post. Witnesses said he was playing with friends. The army said the group was scouting ahead of an ambush by gunmen.
Today's Top News
Top World News

US 7th Fleet warship to visit China this month




Push to lift arms embargo on right track




Powell: US sees no need for Taiwan referendum




Drug trafficking on the rise




Vice-premier lauds US halt of farm subsidies




Snakeheads expose cruelsome truth