Brazil to fight sex tourism as Carnival nears
(Agencies)
Updated: 2004-02-12 09:32
Bare-breasted, hip-thrusting Carnival beauties may stoke lust in some tourists but Brazil authorities hope to temper their ardour with reminders that not all sex in the city of Rio de Janeiro is legal.


A Brazil woman performs during the parade of Carnival. [Chinadaily/file]

Concerned about Rio's image as a major sex tourism destination and the crime that surrounds prostitution, city prosecutors are launching a campaign against sexual exploitation and the use of minors in the sex trade.

The drive, which involves a police crack-down on pimps and brothels as well as a public awareness campaign, coincides with Rio's world-famous Carnival jamboree that kicks off on Feb 20.

One of its focal points is tourism.

"Sex tourism is no good for the city," Ana Lucia Melo, prosecutor in a special unit combating the sex trade and child prostitution, told Reuters.

Young people wearing T-shirts saying "Sexual exploitation is a crime" will distribute pamphlets to tourists across the city explaining that having sex with a person under 14 could land them in jail for up to 10 years.

"We will make contact with all the tourists coming to Rio, in the airports, in the seaport, in hotels and even during Carnival processions in the street," she said.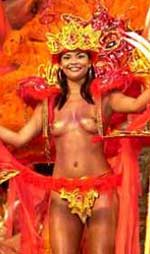 The city is already swarming with tourists and loud rehearsals for colourful samba parades have begun.
It is not illegal in Brazil to offer sexual services or to use them but exploiting other people or running a brothel is an offence with jail terms of one to five years.
Melo said police will regularly raid areas in the city centre, along Copacabana beach and in the Barra de Tijuca neighbourhood that are notorious for prostitution. Seven under-age prostitutes, including three transvestites, were detained in one such raid earlier this week on Copacabana.
"This operation does not end with Carnival. It will go on with the aim of reducing prostitution and punishing those who cash in on the miserable situations that make many women sell their bodies," she said.
A special U.N. envoy said in November the problem of child prostitution and sexual exploitation in Brazil was worse than in most other countries because of poverty, crime and tourism.
Non-governmental organisations estimate the number of child prostitutes in Brazil at between 100,000 and 500,000, out of a total population of 175 million.
Today's Top News
Top Life News

Zoellick: US can't close door to Chinese goods




US, N. Korea bilateral contact lasts one hour




Capital, Hebei in row over river water use




Referendum provokes rise in tension




Import of two Isuzu autos suspended




Farmers to get direct subsidies from the state