Rumors of fireworks display lead to stampede
(Xinhua)
Updated: 2004-02-11 00:12
Rumors of a fireworks display led spectators to a metal bridge in Mihong Park in suburban Beijing's Miyun County and caused last Thursday's stampede that killed 37 people.
This was disclosed by Xia Qiang, secretary of the Communist Party of China (CPC) Miyun County Committee, at a press conference held Tuesday. Many of the victims were women and children, trampled or crushed to death.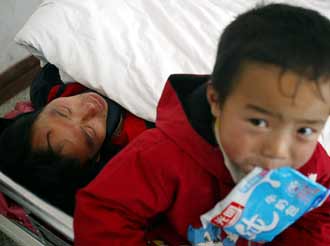 Bao Yueming (left) receives treatment at a Miyun County Hospital in Beijing, as his five-year-old son (right) survives a killing stampede. [newsphoto]
The lantern display opened on Jan. 31 in Mihong Park, attracting about 2,500 tourists each day on average before the accident occurred. On the evening of Feb. 5, China's traditional Lantern Festival, about 4,500 spectators were at the lantern display area and nearly four million tourists were crowded in the park, Xia said.
Rumors spread that there would be a fireworks show when some residents set off fireworks in some residential areas outside of the park and spectators swarmed to Yunhong Bridge, which was considered a desirable site to observe the park's scenery, witnesses said.
At 7:45 p.m., a spectator tripped on the steep steps of the metal rainbow-shaped bridge and fell, triggering the deadly stampede when people from behind did not stop pushing forward and began to fall on top of one another.
Bodies of the 37 victims have been identified and sent to funeral homes, including 28 females and nine males. Among the dead,14 were students, 15 were peasants, six were teachers, and two were workers and the oldest was 68 and the youngest seven, local government sources said.
Six patients had been discharged from hospital as of Monday. The six included one of the 15 injured who were rushed to hospitalshortly after the accident and five of the 22 who checked themselves in.
Another 20 still in hospital are recovering and are expected tobe discharged soon, and 11 others are staying in hospital for observation, said medical staff.
The county officials had set up 37 task forces to condole the bereaved families, trying their best to help the families and handout pensions from the government, charity organizations and socialdonations, Xia said.
Today's Top News
Top China News

CCTV restructuring proof of media reform




Bank of China floating huge bond offering




Jilin governor apologizes for fatal blaze




Moscow police stop raiding Chinese stalls




Senator Kerry blasts Bush, leads in primary




U.S. navy jet fighter F18 is for sale on eBay