Luxury living for US soldiers...at Saddam's palace
(Agencies)
Updated: 2004-02-10 15:26
There's a 24-hour gym with aerobic classes, an indoor swimming pool and even a driving range. And for troops who over exert themselves, a masseur is on hand to soothe aching muscles.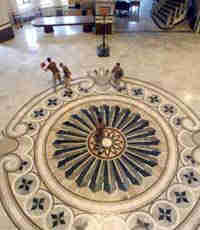 Soldiers of the 4th Infantry Division play basketball in Tikrit in this file photo.[AP]

U.S. soldiers stationed at a riverside palace complex in Tikrit that once belonged to Saddam Hussein face constant danger from Iraqi insurgents whenever they leave the base.

But once inside, they get to kick back in increasing style.

The base has a cinema large enough for 400 people, a sports bar boasting a cappuccino machine and a bustling Internet cafe. Fishing rods, mountain bikes and horseshoes also are available.

"Sometimes I'm walking around Tikrit and for brief moments I feel like I am at home," said Staff Sgt. Issac Day of Tarpon Springs, Florida. "This is about as good as it gets."

The buildup at the base is a sign the Pentagon is prepared for a long haul in Iraq despite plans to hand over sovereignty to an Iraqi government on July 1. Washington has said U.S. troops will be in Iraq for some years to come.

The camp, called Forward Operating Base Ironhorse, is home to around 3,500 troops, most of whom are with the 4th Infantry Division out of Fort Hood, Texas.

Unlike soldiers elsewhere in Iraq, many of whom sleep in tents, troops here are billeted in several ornate palaces that used to belong to Saddam, who was born near Tikrit.

Many of the buildings, which have carved ceilings, huge pillars and luxury bathrooms, command sweeping views of the Tigris River. Most come with balconies or terraces as well as fireplaces to ward off the chilly winter nights.

Last summer, the camp became an unlikely holiday resort for thousands of other soldiers stationed elsewhere in Iraq, who visit for three-day breaks.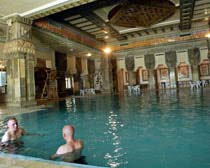 US Army soldiers Spc. Daniel Andrews, left, and Pvt. Robert Knott swim at palace in Tikrit, Iraq, in this file photo.[AP]

"It's just the prettiest camp," said Spc. Cindy Lowery, of Santa Cruz, Calif. "This is the only time I will ever get to live in a palace."

At the end of this month, the 4th ID soldiers based here will fly home after serving a year in Iraq. They are being replaced by the 1st Infantry Division based in Germany.

The camp is deep inside the Sunni Triangle, an area to the west and north of Baghdad that sees near daily attacks by Iraqi insurgents.

Nighttime mortar and rocket attacks on the base are a regular occurrence, and the clatter of gunfire is often heard at the perimeter fence. Helicopters and fighter planes buzz overhead.

Even so, the war can sometimes feel far away.

At the camp's recreation center, troops splash around in a heated swimming pool that is decorated in the same gaudy style -- all mirrors, marble and stained glass -- as most of the buildings here.

"It is a good place to meet your buddies," said Spc. James Bluebird, from Prineville, Texas. "After 10 months, you start thinking of home. This place helps a bit."

Staffers at the recreation center claim Saddam used the pool only once a year. The rest of the time, so the story goes, workers at the palace were forbidden to swim there.

Upstairs in the air-conditioned gym, troops pump iron and pound away at treadmills as loud rock music blares on TV sets in the corner. The machines are always packed, even late at night, when many soldiers finish their duties.

Soldiers of the U.S. Army's 4th Infantry Division play basketball in Tikrit, Iraq. in this file photo.

There are also quieter activities, including angling for carp and other fish in a large manmade lake.

"They have got some monsters out there," said Staff Sgt. Day. "Once we got one that was larger than an M-16."

Soldiers can practice their golf swing on a 250-foot-long driving range that runs along one side of the Tigris. Called the "Eagle Rising Range", soldiers joke that it's likely the only one in the country.

The camp's masseur, an Iraqi from the northern city of Kirkuk, has set up shop in a bathroom at the recreation center. For $10, soldiers can be pounded and pummeled as they gaze out at the lake.

Food is typical mass-produced chow hall fare, but trays of tropical fruits and a large freezer stocked with imported ice creams help to break the monotony.

"You need a break," said Sgt. Maj. Mike Anastasio, of Copperas Cove, Texas, who runs the recreation facilities. "You can't go busting down doors and manning checkpoints seven days a week," he said.
Today's Top News
Top World News

China, US hold highest-level military talks in 14 months




How 'sea turtles' turned out to be 'seaweeds'?




'Chicken products safe for consumers'




Bush firing shots at chief rival John Kerry




UK police arrest 7 over Chinese worker deaths