Spurs hold off Rockets 85-82, Yao scores 25
(Agencies)
Updated: 2004-02-10 14:15
Tim Duncan scored 28 points and Manu Ginobili hit two driving layups in the final minute as the San Antonio Spurs held off the Houston Rockets 85-82 Monday night. It was San Antonio's fifth straight victory and fourth in a row on the road.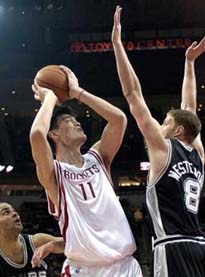 Houston Rockets' Yao Ming (11), of China, looks to shoot as San Antonio Spurs' Rasho Nesterovic (8), of Slovenia, and Tony Parker, left, of France, defend during the third quarter Monday, Feb. 9, 2004 in Houston. The Spurs beat the Rockets 85-82. [AP]

The Spurs beat the Rockets for the sixth straight time, but this one wasn't easy.

The Spurs led 67-54 with 10:37 left, but the Rockets tied it 78-78 with 2:01 to play on a jumper by Yao Ming off a pass from Steve Francis.

Duncan tipped in the go-ahead basket with 1:38 to play and Ginobili fought his way through the lane twice for layups. He then hit a free throw for the final point of the game.

Francis missed a desperation 3-pointer as the game ended.

Ginobili and Robert Horry each had 13 points for San Antonio. Duncan had 10 rebounds for his 42nd double-double in 49 games.

Yao finished with 25 points and Francis had 18 points and 11 rebounds.

The loss snapped Houston's three-game winning streak.

Trailing 32-20 in the second quarter, the Rockets used a 15-6 run to cut San Antonio's lead to 38-35 at the end of the half. Francis had six points in the spurt on a free throw, a 3-point basket and a turnaround jumper.

Francis also missed a 3-pointer at the halftime buzzer that would have tied the score.

Trailing 16-14 in the first quarter, the Spurs went on an 8-0 surge at the end of the period. Duncan tied it with a jumper, Ginobili followed with a steal and layup, and Duncan ended it with a 15-foot banked jumper and a baseline drive.

San Antonio continued the run in the second quarter and ended up with an 18-4 charge and the 32-20 lead, the biggest of the first half.

Notes: Three Western Conference All-Star starters played in the game: Tim Duncan, Yao Ming and Steve Francis. ... The Rockets are 20-10 this season when Francis has more than five assists, and they are 9-12 when he has five or fewer assists. ... New Astros pitcher Roger Clemens was the courtside guest of Rockets owner Les Alexander. ... Clemens took part in an on-court skit during a timeout. He pitched inside to a batter in a Spurs jersey and a mock scuffle ensued. Clemens stayed out of the fake melee.
Today's Top News
Top Sports News

Greenspan: Free floatation of the yuan could be risky




Political advisers pledge to better people's life




Jam-proof satellite going up next year




More and more women saying no to abusers




Bush, Kerry open battle for White House




NASA: Mars had enough water for life