China, US open highest-level military talks in 14 months
(chinadaily.com.cn/Agencies)
Updated: 2004-02-10 13:36
China and US officials added to the recovering military ties between the two countries Tuesday by opening a round of high-level defense consultations.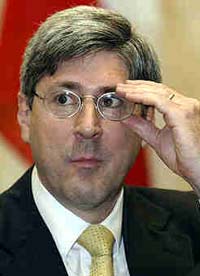 US Undersecretary of Defense Douglas Feith is in China for talks on military exchanges between the two countries. [AFP/file]
Washington regards military ties with Beijing as a key part of their relations. But contacts were cut off following the collision of a US Navy surveillance plane with a Chinese fighter jet three years ago, and are recuperating slowly.
Delegations to the consultations were led by Douglas Feith, a US undersecretary of defense, and Xiong Guangkai, deputy chief of general staff of the People's Liberation Army.
Xinhua News Agency announced the start of the talks, but the two sides didn't immediately release any details of the agenda.
The meetings come three weeks after Gen. Richard Myers, chairman of the Joint Chiefs of Staff, became the highest-ranking US officer to visit Beijing since 1997. Myers said the two sides were making ``good progress'' in military relations.
The meeting Tuesday was the sixth installment in an annual series first held in 1997 under an agreement signed by then-Presidents Bill Clinton and Jiang Zemin. The last gathering took place in Washington in December, 2002.
Myers, while in Beijing, suggested joint search-and-rescue exercises, educational exchanges and additional visits by warships to ports in each country. A Chinese warship recently stopped in the US territory of Guam.
Military relations soured following the collision of the US Navy EP-3E plane and the Chinese fighter jet over the South China Sea in April 2001.
The Chinese pilot was never found and the American crew landed on the Chinese island of Hainan. Military contacts were then broke off between the two sides.


Today's Top News
Top China News

CCTV restructuring proof of media reform




Bank of China floating huge bond offering




Jilin governor apologizes for fatal blaze




Moscow police stop raiding Chinese stalls




Senator Kerry blasts Bush, leads in primary




U.S. navy jet fighter F18 is for sale on eBay