Gore: Bush 'betrayed us' in Iraq war
(Agencies)
Updated: 2004-02-10 09:45
Al Gore, who lost the presidency to George W. Bush in 2000, assailed Bush, accusing him of betraying the nation by invading Iraq.
"He took America on an ill-conceived foreign adventure, dangerous to our troops, that was preordained and planned before 9-11," Gore told Tennessee Democrats at a party event Sunday.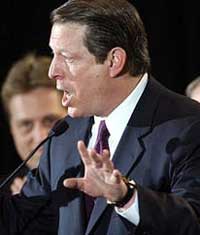 Former U.S. Vice President Al Gore speaks at a Democratic rally on Sunday, Feb. 8, 2004. [AP]

The former vice president said that he, like millions of others, had put partisanship aside after the September 11 terrorist attacks and wanted Bush to lead the nation. Instead, Gore shouted to the crowd, Bush "betrayed us."

Gore, who won the popular vote in 2000 but lost the electoral vote to Bush, likened the Republican's administration to that of former President Nixon.

"Nixon was no more committed to principle than the man on the moon," Gore said. "He cared as little about what it means to be conservative as George Bush does about imposing ... budget deficits.

"It has nothing to do with conservatism and everything to do with his efforts to get re-elected."

Gore, who endorsed Howard Dean for the nomination, complimented the former Vermont governor on his decision to speak out against the war in Iraq, for bringing new people into the party and for raising money through the Internet.

"I appreciate what he's done about giving the party it's voice back," he said of Dean.

Although Gore campaigned in Iowa and other states for Dean, he did promote the Democrat's candidacy in his home state of Tennessee.

No matter who wins on Tuesday in the primary, Gore called on Democrats to unite behind their nominee, saying "any of these candidates are better than George W. Bush."
Today's Top News
Top World News

How 'sea turtles' turned out to be 'seaweeds'?




'Chicken products safe for consumers'




Central bank denies rumors of RMB revaluation




Drownings lead to probe into people smuggling




Urbanization important for farmers' income