Mystery swirls round missing Russian politician
(Agencies)
Updated: 2004-02-10 08:45
The mystery surrounding missing Russian presidential candidate Ivan Rybkin deepened Monday in a swirl of media speculation about his fate, Kremlin silence and attempts by officials to play down the affair.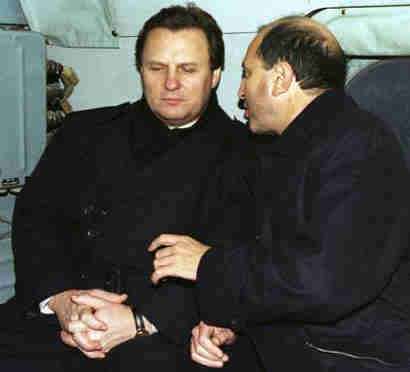 Ivan Rybkin (L) and businessman Boris Berezovsky talk together in a helicopter in the Chechen capital Grozny in this November 12, 1996 file photo.[Reuters]

The bizarre disappearance of Rybkin, 57, a fierce critic of Russian President Vladimir Putin, on the night of Feb. 5 injected drama into the run-up to a March 14 election that Putin is widely expected to win easily, securing a second term.

Rybkin's wife, Albina, suggested that the ally of exiled entrepreneur and Putin foe Boris Berezovsky had been kidnapped. But even his aides were wary of that conclusion.

"He may have fallen, been robbed and killed, his body hidden. The other possibility is that it was an election trick, but it is not like him. The third option is linked to politics, but as far as I know he did not receive any threats," his election aide Ksenia Ponomaryova told Reuters.

Many Russian Internet media outlets linked Rybkin's disappearance to his political activities, recalling the assassination last April of Rybkin's co-chairman in the Berezovsky-sponsored Liberal party, Sergei Yushenkov. Six people were appearing in court Monday charged with his murder.

Compounding the confusion about Rybkin, Moscow's chief prosecutor opened an inquiry for "premeditated murder," only for the decision to be canceled within the hour.

"We have no reasons to believe Ivan Rybkin was abducted or killed at the moment," Russian news agencies quoted a prosecutor's office official as saying.

OFFICIALS RESERVED

Amid the swirl of media rumors, the Kremlin kept silent.

Rybkin, like five other contenders whose popularity ratings are numbered in single digits, poses no threat to the re-election of Putin, whose approval rating exceeds 70 percent.

But Putin's domination of the media and the risk of the March election looking like a Soviet-style poll have drawn expressions of concern from the West.

Early Monday, Interfax news agency quoted an unnamed Moscow police source as saying: "He (Rybkin) is alive and that is a fact. We hope to find Rybkin."

Later the agency quoted a Putin ally, senior parliamentarian Gennady Gudkov, as saying Rybkin's disappearance was a trick to boost his popularity. Gudkov said he understood Rybkin had spent the last few days at a smart resort near Moscow -- but the resort in question denied he was there.

State-owned RIA news agency quoted sources in Rybkin's staff as saying they were aware of Rybkin's whereabouts.

But Ponomaryova told Reuters she was not aware of any fresh information about him.

As police hunted for Rybkin, Moscow observed a day of mourning for the victims of last Friday's bombing on the city metro, with a heavy police presence on the streets.

At least 39 people were killed and more than 100 injured in an attack that Putin has blamed on Chechen separatists.
Today's Top News
Top World News

China, US hold highest-level military talks in 14 months




How 'sea turtles' turned out to be 'seaweeds'?




'Chicken products safe for consumers'




Bush firing shots at chief rival John Kerry




UK police arrest 7 over Chinese worker deaths