'Chicken products safe for consumers'
(China Daily)
Updated: 2004-02-10 00:23
Eating chicken has never before taken courage and confidence, but Minister of Agriculture Du Qinglin displayed both Monday when he had a lunch laden with poultry products in Beijing.
"Chicken has been always my favourite, so I'd like to eat more today,'' Du said at a canteen within the ministry compound, which also houses a national command headquarters to battle the bird flu epidemic.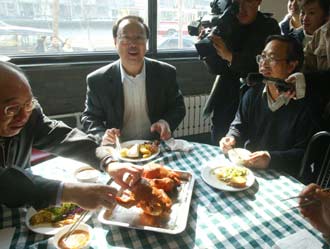 Chinese Agriculture Minister Du Qinglin (second from left), together with other officials, eat chicken at the Agriculture Ministry's dining hall in Beijing, February 9, 2004. The World Health Organization experts said chickens and eggs are safe, if well-cooked. [newsphoto]
Outside Beijing, suspected bird flu cases have been spotted in four new Chinese regions, said Jia Youling, a ministry spokesman on bird flu prevention and control.
New cases have been detected in Jinnan A district of North China's Tianjin Municipality, Macheng of Central China's Hubei province, Anning of Southwestern Yunnan Province and Huayin of northwestern Shaanxi Province.
But that wasn't about to stop Minister Du dining on delictable "kung-pao chicken'' (chicken stir-fried with dry chilis and peanuts), eggs and chicken wings.
Vice-Minister Zhang Baowen, who dined with Du Monday, said although parts of China have avian flu, poultry products available in markets are all from regions untainted by infection.
"Even products from those unaffected areas have experienced stringent checks and quarantines before shipping,'' said Zhang. "Therefore they are safe for consumers.''
Du and his colleagues are not the only officials found in a gastronomic show of confidence aimed to boosting consumers' appetite for dining on fowl. Vice-Minister of Health Gao Qiang was also shown eating chicken before the cameras Monday.

Executive Vice-Minister of Health Gao Qiang enjoys chicken dishes at the ministry's restaurant in Beijing February 9, 2004. [newsphoto]

Actually, unlike the devastating SARS (severe acute respiratory syndrome), which made people turn pale even at the mention of the malady, the bird flu has failed to cause much panic among the public. That's even though sales of chicken and eggs have somewhat dropped in major supermarkets, according to store managers.

Monday's confidence-building efforts and publicity on bird flu prevention finds government and other scientific agencies hoping to draw people back to chicken delicacies, experts said.

In Beijing, households have each gotten pamphlets detailing procedures of bird flu prevention, and of cooking and eating chicken and eggs safely.

Thanks to the publicity -- and partly due to the blockade of products from bird flu-infected regions, the Beijing Chai Tai Animal Husbandry Company, a major supplier of chicken products in the capital, has seen its sales of eggs increase by 10 per cent to up to 3 tons each day, according to a company executive Wang Xincheng.

Globally, 41 countries and regions had slapped a ban on or restricted import of Chinese poultry products by last Thursday. South Korea, Singapore and Japan have resumed import of parts of Chinese poultry products, according to sources with China's quarantine authorities.

While urging Chinese enterprises to honestly abide by quarantine policies, China is discussing with its poultry importers expanding exports of safe poultry products based on the principle of "respecting science and averting risks,'' said a statement from the State General Administration for Quality Supervision and Inspection and Quarantine.
Today's Top News
Top China News

Greenspan: Free floatation of the yuan could be risky




Political advisers pledge to better people's life




Jam-proof satellite going up next year




More and more women saying no to abusers




Bush, Kerry open battle for White House




NASA: Mars had enough water for life