A gallop through 2,200 years of Xi'an
(Shanghai Star)
Updated: 2004-02-06 15:49
Xi'an is always a top destination for foreigners visiting China because of the amazing terracotta warriors. For Chinese like me, it's a place where the legendary figures throughout the dynasties come back to life.
Traces of Qin Shihuang, the man who united China from a mess of warring states more than two millennia ago, the much loved and hated Yang Guifei, a beautiful concubine during the Tang Dynasty about 1,300 years ago, Sima Qian, the great historian of the Western Han Dynasty about 1,800 years ago and General Huo Qubin, a heroic Western Han general exalted in many history books for defending China's borders, can all be found in Xi'an today.
Terracotta Warriors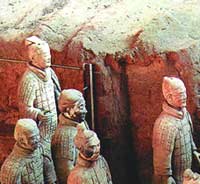 My friend and I knew that our four-and-half-day trip would be like a ride on a galloping horse through the ancient city, capital of 13 Chinese dynasties spanning more than 1,100 years, so we wasted no time.
We first picked the popular East Route which took us to the Terracotta Warriors, Huaqing Hot Spring, Mount Lishan and Qin Shihuang Mausoleum.
Some budget travellers recommend a bus ride there, but since taxis are cheap in Xi'an, a one-way trip to the Terracotta Warriors Museum costs only 50 yuan, which isn't much if you split it with friends. It also saved our precious time.
Known as one of the world's eight wonders, the Terracotta Warriors was actually discovered by a group of farmers on March 29, 1974. These farmers have recently appealed to the government to put their names in the introduction to the museum.
The three pits discovered contain more than 7,000 warriors and their horses along with some 100,000 pieces of bronze weaponry made in the 3rd century BC to protect the tombs of Emperor Qin Shihuang.
The different postures of the lifelike warriors are astonishing even if you have seen them on TV a hundred times. You can somehow feel how awesome the army was that Qin Shihuang led to unite China in those days.
No wonder when former US President Bill Clinton visited the place in 1998, he said he hoped that he could become the curator of the Terracotta Warriors Museum after his retirement.
It is said that the vivid colours of the warriors and horses changed overnight after they were exposed to the air decades ago. The day we were there the guards turned a blind eye to visitors taking pictures, a prohibited act that could also endanger the Chinese treasures.
It is also said that there might still be more treasures underground and it's better to let them stay underground until technology improves.
Mount Lishan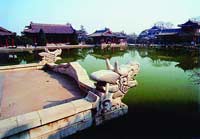 After being mesmerized by the Terracotta Warriors for three hours, we took a taxi to Mount Lishan (taking 10 minutes and costing 10 yuan).
Mount Lishan attracted me because so many popular historical stories have happened there.
We took a cable car up and found we were the only people visiting the hill on that wintry day, alone except for two local guys offering us a horseback ride to the hill top (30 yuan for two horses), where China's most famous Fenghuo Tai (beacon tower) stands. It was the place where Concubine Bao Shi and King Zhou Youwang teased the army by sending a false warning signal and later lost his kingdom.
Standing at the top of the beacon tower, you get a panoramic view of Mount Lishan, where Goddess Nuhuo made stones to repair the collapsing sky, fought monsters and natural disasters and finally created today's world.
We enjoyed the horseback ride. It was also nice to chat with the two farmer grooms, although going down on mountain edge was a little scary to me.
Before we reached Huaqing Hot Spring, we arrived at the pavilion where Chiang Kai-shek was captured by General Zhang Xueliang and Yang Hucheng during the Xi'an Incident in December 1936, forcing Chiang to fight the Japanese, not the Communists. Thanks to the Xi'an Incident, the Communist army was able to breathe and grow and eventually to change the history of China.
This place is especially impressive to me because I met General Zhang in a church gathering in Honolulu, Hawaii in 1993 and my mother said that General Yang had visited my uncle in Shanghai in the 1930s.
Now I could already see Huaqing Hot Spring down the hill. It was a famous retreat with Chinese emperors two millennia ago. A lot of tourists today come here for a hot spring bath.
Huaqing Hot Spring was famous due to its association with the Emperor Tang Xuanzong and his concubine Yang Guifei of Tang Dynasty in about 750 AD. The pretty Yang was from a poor family but was promoted by the emperor, who later lost interest in taking care of state affairs because of his obsession with Yang. When the country was under threat, people around the emperor blamed Yang for the problem and threatened to kill her. Even the emperor seemed helpless at this moment, Yang hanged herself to save her lover's reputation and the country.
Derelict classical marble bathhouses used by people like Concubine Yang still tell of the luxury of the old times. The splendor and extravagance of the place has been known to Chinese through many well-known poems by Li Bai and Du Fu a thousand years ago.
On the way back to Xi'an, you should pay a quick visit to the Banpo Neolithic Village, which displays the excavation of a village from about 4,500 years ago.
Downtown Xi'an
The Big Wild Goose Pagoda (Dayan Ta) is the symbol of Xi'an. A famous Buddhist tower, the 7-storey Dayan Ta (64 metres tall) was first built in 589 AD and repaired constantly, so that it looks perfectly well preserved. It was first built by Emperor Tang Gaozong in 648 AD to commemorate his dead mother.
If you go there early in the morning, you can find mostly local women performing beautiful fan dances outside the pagoda as a kind of fitness exercise.
By contrast, the Small Wild Goose Pagoda (Xiaoyan Ta), which is 30 minutes walk away, is a much quieter and more enjoyable place. Recent repairs are not as obvious as at the Dayan Ta and the top is still missing today after being shaken off in earthquakes during the Ming and Qing dynasties (1368-1911).
You can't miss the Xi'an City Walls, that we passed several times a day. They are considered the most complete Ming Dynasty (1368-1644) city walls in China today.
We embarked at the South Gate and headed towards the East Gate about one hour away. Watch towers are situated every 120 metres along the 12-metre tall city wall. Taking a leisurely walk on the 4-lane wide city wall and fancying how our ancestors resisted the enemies on the wall is a great pleasure.
For calligraphy lovers, you should not miss the Forest of Steles near the South Gate. There hundreds of large ancient stone slabs depicting calligraphic writings are displayed.
Muslim food street
Food in Xi'an is as enjoyable as the historical sites.
The bustling Muslim food street behind the Drum Tower is especially worth exploring at night. Hundreds of vendors peddle everything from mutton kebabs and beef soup to fried twisted dough and steamed rose cakes. The well-known jiasan baozi can also be found on the street, serving various steamed buns Muslim style.
The Defachang Jiaozi Restaurant which serves banquet of a hundred different kinds of jiaozi (dumplings) is just next to the street.
The food in Xi'an, like its taxis, is inexpensive compared with Shanghai.
Today's Top News
Top News

Greenspan: Free floatation of the yuan could be risky




Political advisers pledge to better people's life




Jam-proof satellite going up next year




More and more women saying no to abusers




Bush, Kerry open battle for White House




NASA: Mars had enough water for life