Police grill Sharon in bribery scandal
(Agencies)
Updated: 2004-02-06 11:40
Israeli police questioned Prime Minister Ariel Sharon for more than two hours Thursday about a bribery case that could force him out of office, as criticism grew that his surprise proposal to remove Israeli settlements in Gaza was meant to deflect attention from the scandal.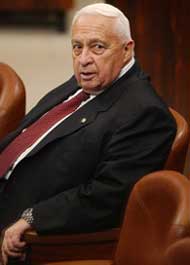 Israeli Prime Minister Ariel Sharon pauses during a Knesset session, Israel's parliament, in Jerusalem in this file photo from Feb. 2, 2004. [AP]

The prime minister again denied wrongdoing, Israel TV said. Sharon told investigators he did not know of a lucrative marketing contract his son Gilad signed with a real estate developer despite apparent lack of experience needed for the job, the report said.

Meanwhile, Israeli forces in about 30 vehicles entered the town of Jenin at the northern edge of the West Bank late Thursday, exchanging heavy fire with Palestinian gunmen, the military and residents said. An Israeli in the force was seriously wounded, the military said. No Palestinian casualties were reported. Israel Radio said the soldiers were searching for terror suspects.

In the Gaza Strip, members of rival security services exchanged fire at Gaza police headquarters, and 11 police officers were wounded. One, a 22-year-old serving under Jabali, died of his wounds, hospital officials said.

Police chief Ghazi Jabali, who was not hurt, called it an attempt to assassinate him, but a rival security service dismissed it as a "misunderstanding."

Turf battles among more than a dozen security agencies have flared into violence repeatedly in the past. Israel and the United States have demanded the squabbling agencies be united under a single Cabinet minister to facilitate a campaign against violent groups like Hamas, but no such steps have been taken.

Also in the Gaza Strip, a Palestinian man was killed in an explosion in his home in the Bureij refugee camp, residents and hospital officials said.

Nasser Abu Shoka, 33, was a well-known member of Hamas, and the Islamic group accused Israel of killing him. However, the army said it had no forces in the area, and residents said he may have been building a bomb that went off by accident.

Hassan Shihab, 35, who owns a grocery store across the street, said Israeli helicopters were in the area but apparently did not fire missiles. He said the blast was in the house. "I was sitting outside with friends and we did not see anything," he said.

Earlier this week, Sharon's proposed withdrawal from most of Gaza as part the "unilateral disengagement" program he is preparing if peace talks remain frozen. Top aides have said he would start implementing it in the summer.

The plan includes imposing a boundary in the West Bank that would leave some of the territory under Israeli control. Palestinians denounce it as a land grab.

Sharon has said the plan is not yet finalized, but he dispatched his vice premier, Ehud Olmert, to Washington to discuss it. "Israel will not remain in Gaza," Olmert said Thursday after meeting U.S. officials.

The United States has been critical of the unilateral concept, insisting such moves must be the result of negotiations, but officials in Washington have praised the plan to evacuate 17 of the 21 Gaza settlements.

About 7,500 Jewish settlers live in heavily guarded settlements in Gaza among 1.3 million Palestinians in a crowded, impoverished strip along the Mediterranean coast.

Commentators attributed the Gaza plan to Sharon's domestic problems ¡ª a bribery case that could force him from office. "It's not only about removing settlements. It's about removing headlines," said Akiva Eldar, a columnist for the Haaretz daily.

Police questioned Sharon Thursday at his official Jerusalem residence for more than two hours. If indicted, he would probably have to step aside.

"The prime minister cooperated fully," police spokesman Gil Kleiman said, adding that no further questioning of Sharon is planned. Sharon was interrogated about the matter in October.

Last month, real estate developer David Appel was indicted on charges of bribing Sharon with $690,000 in 1999 in a tourism development deal in Greece.

Sharon was foreign minister at the time, and the bulk of the money was allegedly paid to Sharon's son, Gilad, for marketing services. There was also a contract to give $3 million to Sharon's ranch, the indictment said.

Israel TV reported this week that new attorney general, Meni Mazuz, is expected to decide within three months whether to indict Sharon.

Under Israeli law, a person can be convicted of accepting a bribe only if criminal intent is proven. Appel said in a television interview Wednesday that Sharon was not involved in the failed development deal.

Sharon did not comment publicly after the questioning, but he has repeatedly denied any wrongdoing.

Sharon said this week that the Gaza plan is not connected to the police probe and welcomed a proposal to hold a national referendum on the pullback.

Lawmakers from Sharon's Likud Party, feeling betrayed, started initiatives to block the proposal. However, Sharon got a boost from Defense Minister Shaul Mofaz, who came out in support of withdrawing from Gaza.
Today's Top News
Top World News

37 killed in Beijing lantern festival stampede




Officials confident bird flu in check




New Asset supervision goals set out




23 Chinese stranded off English coast




China reopens Iraq embassy, cuts debt