Pakistan's President pardons disgraced scientist
(Agencies)
Updated: 2004-02-06 08:49
Pakistani President Pervez Musharraf pardoned the scientist who leaked nuclear arms secrets to Iran, Libya and the Democratic People's Republic of Korea (DPRK), saying on Thursday he remained a national hero for developing the country's atomic bomb.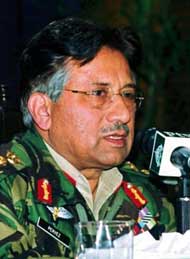 President of Pakistan Pervez Musharraf addresses a news conference, Thursday, Feb. 5, 2004 in Rawalpindi, Pakistan. Musharraf pardoned the father of Pakistan's nuclear program Abdul Qadeer Khan for giving technology to Iran, Libya and DPRK, blaming him for leaks allegedly made without government permission. [AP]

The uniformed general angrily rebuffed calls for an independent inquiry into the military's role in the nuclear leaks, saying Pakistan would not hand over any documents or allow U.N. supervision of its atomic program.

The United States strongly defended Musharraf, reflecting a balancing act between its usual aggressive stance on punishing proliferation and its firm support for Musharraf -- a key ally in the U.S. anti-terror war.

"This proliferation network is no longer. The actions of Pakistan have broken up this network," spokesman Scott McClellan said aboard Air Force One in the United States.

He said Musharraf provided assurances that his government itself was not involved in any kind of proliferation activity and "we value those assurances and those actions."

In a dramatic televised confession on Wednesday, Abdul Qadeer Khan, revered as the father of Pakistan's atomic bomb, said he acted independently in leaking secrets as head of Pakistan's nuclear program from the 1970s.

Mohammed ElBaradei, head of the U.N.'s International Atomic Energy Agency, said in Vienna that Khan had help from people in many countries and was "the tip of an iceberg for us."

Western diplomats and local commentators also doubted Khan could have acted independently of Pakistan's military, which controls the nuclear arsenal, and said he had been used as a scapegoat for the army, which Musharraf heads.

Musharraf told a news conference he had agreed to a cabinet recommendation to pardon Khan, a national hero for his role in developing a bomb to rival that of old enemy India.

"I as president of Pakistan have decided to pardon Dr A.Q. Khan who is our national hero but he has made mistakes, which is unfortunate," he said.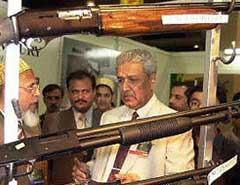 Dr. Abdul Qadeer Khan,founder of Pakistani nuclear program [AP]

Musharraf said IAEA officials were welcome to visit Pakistan to be briefed on the military's investigation into the scandal.

But he said Pakistan would not hand any documents to the U.N. agency, which wants to end illicit trade in atomic secrets. "This is a sovereign country," he said. "No document will be given. No independent investigation will take place here, and we will not submit to any United Nations coming inside here."

Foreign Minister Khursheed Mehmood Kasuri later said while Pakistan would not allow the IAEA to investigate Pakistan's nuclear programs, it would help the body investigate Iran.

"We will not allow them under any situation whatsoever to come and peep into our program. These are our national secrets. But wherever they need support to achieve their declared objectives ... we will fully cooperate," he said.

Political analysts had not expected an independent probe or open trial for Khan, since those might embarrass the military.

Musharraf, aware of the criticism the investigation into Khan and his fellow scientists has triggered in Pakistan, said his decision to force such a "larger than life" figure into the open had been a tough balancing act.

"My job here is number one, to protect my nation, and number two, to protect the honor and dignity of our hero. But I'll never reverse this order," he said.

INVESTIGATION LEADS TO CONFESSION

A senior Pakistani military official said on Sunday that Khan made a detailed statement confessing to supplying designs, hardware and materials to enrich uranium for atomic bombs to Iran, Libya and DPRK via a network of overseas middlemen.

Pakistan launched its investigation over two months ago after the IAEA provided evidence of links between Iran's nuclear program and Pakistan. Similar links have been traced to Libya.

Musharraf said 11 people were still being detained -- seven scientists and engineers, three officers and a technician.

"All the proliferation unfortunately was under the supervision and orders of Dr A.Q. Khan. No government official or military man was involved," he said, adding that Khan's motivation appeared to be "lust for money."

Musharraf said former army chiefs, Generals Aslam Beg and Jehangir Karamat, were questioned in the probe but were cleared.

The News broadsheet quoted an official as saying a deal was struck under which Khan, 69, would be allowed to live peacefully in Pakistan for promising not to reveal details in future.

CIA Director George Tenet said U.S. intelligence agencies had been aware for some time of Khan's activities. "Our spies penetrated the network through a series of daring operations over several years," he said in a Washington speech.

But the case is sensitive for the United States as well as for Pakistan and Washington is eager to avoid jeopardizing Musharraf.

In Vienna, diplomats close to the IAEA said it too was treading carefully and had not asked to interview Khan because it knew Islamabad would refuse.

Musharraf is under pressure from critics angered by his support for the "war on terror" and his bid to make peace with India. He survived two attempts on his life late last year blamed on Muslim militants.
Today's Top News
Top World News

37 killed in Beijing lantern festival stampede




Officials confident bird flu in check




New Asset supervision goals set out




China to reopen Iraq embassy, pardon debts




Solana: EU ready to lift China arms embargo