37 killed in Beijing lantern festival stampede
(chinadaily.com.cn)
Updated: 2004-02-06 08:18
Tragedy struck last night when at least 37 people died and 15 others were injured at a Lantern Festival gathering at a Miyun County Park 65 kilometres northeast of downtown Beijing.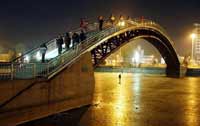 Journalists film the site of a stampede on a bridge which left 37 people dead, at Miyun, a northern suburb of Beijing early Friday Feb. 6, 2004.[AP Photo]

Authorities said the accident occurred at 7:45 pm at Mihong Park when a visitor stumbled on an overcrowded bridge and in the confusion people were crushed in an oncoming throng.

Thousands of people had come to watch the specially prepared lanterns featured at the annual festival.

Witnesses said frantic parents were searching for their children in the freezing night air after the crush. All that was left after the bodies were taken away was scattered clothes and shoes and an eerie quiet.

Many of the victims were crushed and suffocated to death by crowd, Xinhua News Agency reported.

Most of the people killed were women and children, some as young as seven-years-old, said a witness.

Emergency crews transported the injured to the People's Hospital of Miyun County, a county public security official told China Daily.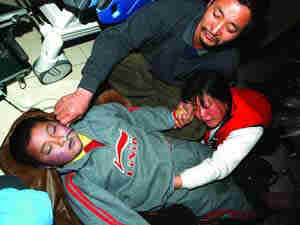 A boy is in coma late in the night on February 5, 2004 in Miyun hospital hours after the lantern festival stampede . At least 37 people died and 15 others were injured. [The Beijing News]
President Hu Jintao urged all possible measures and utmost efforts in the rescue work and proper care for the injured. Other State leaders, including Premier Wen Jiabao, also voiced their concerns.
Beijing Party chief Liu Qi and Acting Mayor Wang Qishan rushed to the site to help direct rescue work.
Police are still investigating the cause of the accident.
The Lantern Festival is the 15th and last day of the Lunar New Year period when people traditionally go out to see lanterns.
Today's Top News
Top China News

Greenspan: Free floatation of the yuan could be risky




Political advisers pledge to better people's life




Jam-proof satellite going up next year




More and more women saying no to abusers




Bush, Kerry open battle for White House




NASA: Mars had enough water for life