Pouring your heart out to the girl pouring your beer
(thatsmagazines)
Updated: 2004-02-06 09:27
Sitting there, alone on a bar stool, making eye contact with a group of giggling girls who shoot laser looks of disdain, it's not hard to come away from a night on the town with a bruised and battered ego.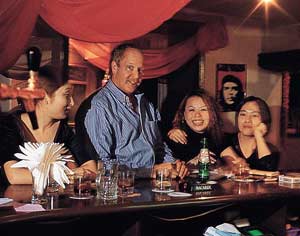 The Sri Lankan minor league men's field hockey game on the fuzzy TV is dragging and upon polishing off your tenth bowl of peanuts, you're beginning to feel the bloat. Just when you're about to throw in the bar towel, she appears out of nowhere: the bar girl. Yes, the bar girl with the warm smile and something close to a 'hello' saddles right up you. Then, faster than a dart shooting towards the bull's-eye, a fresh beer appears. Your wallet - and your mood - get lighter. As Jenny of Jenny's Blue Bar says, "Here there are no strangers; we make strangers feel like old friends."
Let's face it, men are suckers for flattery. And, they love to suck down beer. Bar owners have wised up and brilliantly found a way to use one attribute to push the other. After all, which guy hasn't had a few drinks, then proceeded to boast a myriad of accomplishments and impart insightful opinions on how the auto industry is mounting a conspiracy to keep the hydrogen engine off of the market while a cute girl feigns interest and ensures that this 'warrior hero' continues to drop money as consistently as he's doling out his wit. Not only do guys seem to like it, especially those far from home, they're also convinced that "I'm not like the other guys and I know that she really does like me." Hence, the bar girl/waitress/confidant has become a fixture at many of Shanghai's watering holes.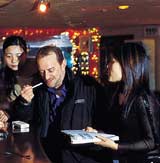 Katerina, the owner/manager at Speedwell, describes a bar girl's duties simply, "They should ask what you want to drink, talk to you and make friends, and try to keep you in the bar as long as they can." She says that the main things she looks for in a new girl are the ability to speak English, a sense of humour, and overall good communication skills. Generally though, their speaking skills are fairly rudimentary - which I experienced firsthand when three of my interviewees failed to comprehend my questions.
Many of the girls are from the countryside, like Jane. Coming from a village of 700 in Yunnan, this eighteen-year-old came to the glitz and glamour of Shanghai because there were no employment opportunities back home. Her youth becomes all too apparent when a song I loved in university begins to play and she grimaces, "This is a really old song." I respond jokingly, "Nineties?" She replies earnestly, "No, even older?- eighties!"
Conversation and humour tend to stay basic - or base. A patron enters a bar, gives one of the girls a bag of Hershey's Kisses, to which she responds, "Only chocolate kisses?" He raises an eyebrow, "Outside?!" She shakes her head and retorts, "Inside!" The whole bar cracks up.
Later at Jenny's Blue Bar, bar girl Maria admits: "If the topic is not that interesting, of course I will go on talking, but as soon as the guy leaves I won't even remember what we were talking about."
At another nameless bar later in the night, the scene is wearying. A fifty-something year-old is surrounded by six girls who are giving him a back rub and kisses, as he buys them watered-down juice drinks and paws them in a way that can only be called 'aggressively opportunistic mauling.' His female audience pretends to bask in his glory, cooing in delight, though as soon as he turns his attention, the applause sign dims and they immediately show their true sentiments - boredom beyond belief.
Like the entire bar scene itself, there's an aspect of this bar girl phenomenon that's simply depressing. Even run-of-the-mill fellas who enjoy an odd chat here or there with a bar girl will look upon an unknown paunchy, middle-aged man with disgust.
At the end of the day, and it is indeed at the end of a hard day's work that most customers interact with bar girls, these interactions are purely business. Attention, conversation and a bit of sympathy in exchange for dropping some cash.
Today's Top News
Top Life News

Greenspan: Free floatation of the yuan could be risky




Political advisers pledge to better people's life




Jam-proof satellite going up next year




More and more women saying no to abusers




Bush, Kerry open battle for White House




NASA: Mars had enough water for life