Worker says Jackson rehearsal was tamer
(Agencies)
Updated: 2004-02-05 08:48
Before the Super Bowl, Justin Timberlake and Janet Jackson rehearsed a tamer version of the now-infamous breast-bearing performance during their halftime show, a worker who saw the rehearsals said Wednesday.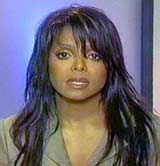 Janet Jackson is shown in a videotape released to the media Tuesday, Feb. 3, 2004, in Los Angeles in which she apologized for the breast-baring incident during her performance at the Super Bowl halftime show. Jackson had previously apologized Monday night in a written statement. [AP]

Timberlake practiced removing Jackson's jacket — not exposing her breast — in rehearsals several days before Sunday's game, said David Spear, who attended the rehearsals as a consultant for Pyrotecnico, the company hired by MTV to produce pyrotechnics during halftime.

Spear said Jackson was wearing a sweater and jeans during the rehearsal. Timberlake pantomimed removing a jacket, said Spear, who added that he assumed Jackson would be wearing both a jacket and a blouse underneath during Sunday's show.

Jackson has apologized repeatedly for what happened at the end of her performance Sunday: Timberlake snatched off part of her bustier on stage, revealing a breast clad in a "nipple shield" to about 89 million viewers.

"That's not how it was rehearsed," Spear said Wednesday. "It was clear that night that there was going to be one scene where he would remove her jacket. The clear assumption was that she would have something on underneath."

CBS faces a Federal Communications Commission investigation into whether the Super Bowl show violated decency laws, with potential fines of up to $27,500. If applied to each CBS station, the fine could reach into the millions.

Spear, who lives in New Orleans, said MTV changed a number of elements of the halftime show during rehearsals. Performer Kid Rock had tossed his U.S. flag T-shirt into the crowd during rehearsals, but was told to hand the shirt to a band member instead, Spear said.

He also said they changed camera angles to screen out a scantily clad dancer.

Tom Freston, chairman of MTV Networks, has said he welcomes the FCC's investigation, which he said will prove that the show's producers and broadcasters had no prior knowledge of the stunt. MTV produced the halftime show.

Spear said he believed CBS and MTV were unaware that Jackson's breast would be exposed during the show.

"I think they got snookered," Spear said. "I think they got blindsided by her antics."
Today's Top News
Top Life News

Greenspan: Free floatation of the yuan could be risky




Political advisers pledge to better people's life




Jam-proof satellite going up next year




More and more women saying no to abusers




Bush, Kerry open battle for White House




NASA: Mars had enough water for life