Smuggling mastermind denied asylum
(Canadian Press)
Updated: 2004-02-04 12:00
Lai Changxing, one of China's most wanted fugitives, was dealt another blow Tuesday in his bid for political refugee status in Canada.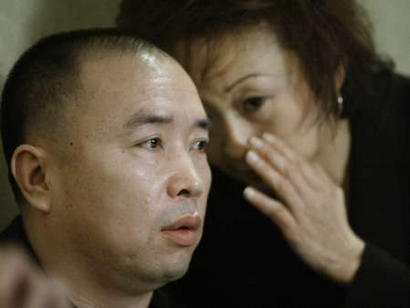 Interpreter Sandra Chang speaks to Chinese fugitive Lai Changxing. [Reuters]


"In my opinion, the (refugee board) panel's findings that none of the claims of the members were within the definition of Convention refugee . . . was reasonably supportable on the evidence before the panel," wrote Justice Andrew MacKay of the Federal Court of Canada.

"Those findings do not warrant the court's intervention," MacKay wrote in denying the applications by the Lais and their three children for a judicial review of a refugee panel's findings.

The ruling upholds a decision in 2002 by a refugee board panel that found Lai and his wife Tsang Mingna did not meet the standards required to be considered refugees.

The decision doesn't mean Lai and Tsang will be leaving Canada immediately since there are further appeal processes possible that could include the Federal Court of Appeal and a "risk of return" review conducted by Canada's federal Immigration Department.

Their lawyer has said previously that the case could eventually end up in the Supreme Court of Canada.

Lai was arrested and detained briefly last week but was released following a detention review hearing.

Lai is suspected of being the mastermind behind a smuggling network responsible for smuggling as much as US$10 billion worth of goods into China.

Immigration contends that the Lais and their company smuggled cigarettes, heating and cooking oil, textiles, chemicals and other raw materials into Chinese mainland through Hong Kong. The alleged crimes are outlined in volumes of documents and statements compiled by Chinese authorities.

The Canadian Federal Court mandate was to determine if the refugee panel made reasonable findings.

In its 294-page decision released in June 2002, the refugee board panel found Lai and Tsang were "not credible and that there were serious reasons for considering Lai had committed the crimes of smuggling and bribery."

The panel also found there were serious reasons for considering that Lai's wife had also smuggled.

Canadian Immigration Department lawyers told the refugee panel and the court that Lai and Tsang do not fit the criteria of convention refugees, which apply to people who have a "well-founded fear of persecution for reasons of race, religion, nationality, membership in a social group or political opinion."

Lai, through his lawyer David Matas, appealed the panel decision to the Federal Court, which heard arguments over five days last year.

Options open to the court included overturning the findings of the refugee board panel and ordering a new hearing before a different panel.

The Lai family had argued that their alleged crimes were "political" in nature in regards to a section of the Immigration Act.

But the judge agreed with the panel that the alleged crimes were non-political.

"In this case there is no basis to intervene in relation to the panel's conclusions that the crimes alleged in this case, smuggling and bribery, were non-political crimes."

Lai arrived in Canada with his family in August 1999 and was arrested more than a year later while gambling at a Niagara Falls, Ont., casino.

His wife was picked up the same day in the Vancouver suburb of Burnaby.

Today's Top News
Top China News

Greenspan: Free floatation of the yuan could be risky




Political advisers pledge to better people's life




Jam-proof satellite going up next year




More and more women saying no to abusers




Bush, Kerry open battle for White House




NASA: Mars had enough water for life