U.S. watchdog investigates Jackson breast incident
(Agencies)
Updated: 2004-02-03 09:06
The U.S. media watchdog on Monday promised to investigate whether indecency rules were broken during the broadcast of the Super Bowl halftime show when pop diva Janet Jackson's bodice was ripped to expose her right breast.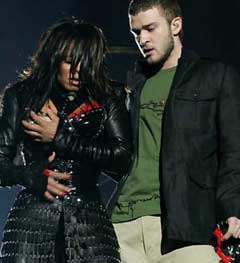 Janet Jackson (L) reacts after fellow singer Justin Timberlake ripped off one of her chest plates at the end of their half time performance at Super Bowl XXXVIII in Houston, February 1, 2004. The federal government's media watchdog on Feb. 2 promised to investigate whether indecency rules were broken during the broadcast of the Super Bowl halftime entertainment show when pop singer Janet Jackson's bodice was ripped to expose her right breast. [Reuters]

During the break in the National Football League's championship game, singer Justin Timberlake reached for Jackson as they sang a duet and tore off part of her black leather bustier, prompting widespread outrage.

U.S. Federal Communications Commission Chairman Michael Powell promised a "thorough and swift" investigation of the stunt aired during one of the most popular American television broadcasts, which also attracts a major worldwide audience.

The game garnered the best ratings in six years and the incident provoked wall-to-wall coverage on cable news networks. President Bush was asked to comment but said he fell asleep before the halftime show.

"That celebration was tainted by a classless, crass and deplorable stunt," Powell said in a statement that was echoed by others on the panel. "Our nation's children, parents and citizens deserve better."

Television networks are already on the defensive, with the FCC taking a more aggressive stand against indecency and Congress threatening to sharply raise fines for incidents.

Viacom Inc.'s CBS, which aired the show, has been under fire for refusing to air political advertisements during the game and for shunting a controversial movie about former president Ronald Reagan to cable from the network.

CBS and Viacom's other unit, MTV, which produced the American football halftime bonanza, apologized for what they described as an unscripted moment. While Timberlake said it was a "wardrobe malfunction," Jackson capitalized on the attention.

Virgin Records, said that her new single, "Just a Little While," was being delivered to U.S. radio outlets on Monday, ahead of schedule.

The track from her upcoming album "Damita Jo," was released early due to a "firestorm of interest" fueled by unauthorized Internet downloads of the song, Virgin said.

'BROADCAST STANDARDS'

"We attended all rehearsals throughout the week and there was no indication that any such thing would happen," CBS said. "The moment did not conform to CBS broadcast standards and we would like to apologize to anyone who was offended."

A spokesman for CBS had no immediate comment on the probe and a Viacom spokesman was not immediately available for comment. The NFL said it would not likely allow MTV to produce another halftime show.

Some questioned whether it was unplanned since MTV's Web site promised ahead of the show "shocking moments" and Timberlake sang the line "I'll get you naked by the end of this song," moments before the incident.

"I don't really see what the big deal is all about. It's just a boob," said Judy Reeves, 24, who is in public relations.

Complaints flooded into the FCC about Jackson and male singers grabbing their groin area while performing. The FCC could fine each station that aired the show up to $27,500 per violation as well as consider revoking broadcast licenses.

"Whether or not CBS executives did or did not know in advance is irrelevant, Viacom executives had the duty to know." said Parents Television Council President Brent Bozell who urged the FCC to fine each station the maximum.

Federal rules bar the broadcast of obscene material and limit the airing of indecent material that contains offensive sexual or excretory references to late night hours when children are unlikely to be watching.
Today's Top News
Top Life News

WHO: Bird flu death rises to 15; vaccination recommended




Solana: EU ready to lift China arms embargo




Hu's four-nation visit boosts cooperation: FM




China reports no human infection from bird flu




China pins high hopes on 6-party talks