Premier urges strict bird flu measures
(China Daily)
Updated: 2004-02-02 23:41
Chinese Premier Wen Jiabao urged governments to make preventing the bird flu epidemic a priority.
Bird flu prevention is a tough job for China given its vast size, and backward conditions for poultry raising in most rural areas, Wen said.
The premier made the remarks during his inspection tour of two affected regions in Shima Village of the city of Ma'anshan, East China's Anhui Province, and Shifosi Town of Wuxue, Central China's Hubei Province on January 31 and February 1.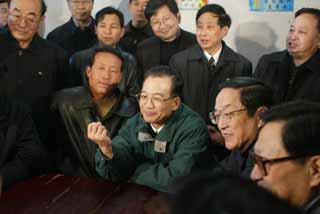 Premier Wen talks with local residents. [newsphoto]
The two places were declared to have, respectively, suspected and confirmed cases of bird flu last Friday.
The Ministry of Agriculture reported no new cases of bird flu by 8 pm last night.
Wen asked officials at all levels to attach greater importance to the disease and reinforce the prevention efforts.
China's central authorities have issued guidelines and a series of policies on avian influenza prevention. Local departments should strictly follow and implement them, he said.
Regions with reported bird flu cases should take decisive measures to firmly control the spread of the disease and those with no reported cases should be well prepared for steps to deflect bird flu.
The premier also urged the strict implementation of compensation for farmers affected by bird flu.
Local authorities have been culling poultry within 3 kilometres of infected farms, and enforcing compulsory vaccination of birds within 5 kilometres of the infected areas.
The government will promptly compensate farmers who killed their poultry in order to control the spread of bird flu, and will pay the vaccination cost, sources with finance and agriculture ministries said yesterday.
Local governments should conduct public education campaigns about the disease to avoid human infection of the disease, Wen said.
Vice-Premier Hui Liangyu, chief of a national command headquarters to battle the disease, also called for redoubled efforts to control the bird flu epidemic.
In listing the priorities of the national command headquarters, Hui said information about bird flu infection should be publicized in a timely and accurate fashion, and effective measures should be taken to curb the spread of the contagion, especially transmission to humans.
Surveillance and quarantine work will be further bolstered, and resources for the disease prevention should be guaranteed.
A national technology group was set up to focus on bird flu prevention and control expertise, development of effective vaccines, and analyzing the bird-to-humans transmission channels, Li Xueyong, vice-minister of Science and Technology, said yesterday.
The China office of the World Health Organization (WHO) confirmed yesterday the arrival of two experts from the United Nations agency in Beijing to assist China's campaign against the highly pathogenic avian influenza.
Office spokesman Roy Wadia said: "The WHO is in the process of identifying more international experts across a range of disciplines as to form a joint mission with the Chinese side."
He told China Daily the joint mission will be established in a couple of days and will co-operate with Chinese ministries of health and agriculture.
Sources with the Ministry of Health said the experts from the Netherlands arrived in Beijing on January 30 and had not yet asked to visit the locations where the bird flu was reported.
Yesterday Shanghai closed all 690 poultry markets as the city banned the trade and slaughter of poultry to curb spread of bird flu.
Beijing is conducting 24-hour checks in all air, road, railway links with the outside, and poultry slaughter and processing has been stopped at local markets.
The health authorities will inspect the latest situation of the "highly vulnerable" group, namely people dealing with poultry raising, slaughter, transport and sales, and examine their blood serum antibodies.
The Beijing Centre for Disease Control has demanded a thorough inspection of flu patients in some 37 flu-monitoring hospitals, and all the samples will be sent for careful medical examination.
Today's Top News
Top China News

Protecting human rights 'important' for China




Economists forecast rosy picture for 2004




China, Philippines smash drug ring




True records of US human rights exposed




'Lord of the Rings' sweeps Oscars




Putin chooses Fradkov for prime minister