Emergency shelters planned for capital residents
(China Daily)
Updated: 2004-02-02 09:03
Beijing plans to build more than 1,000 emergency shelters in the next few years.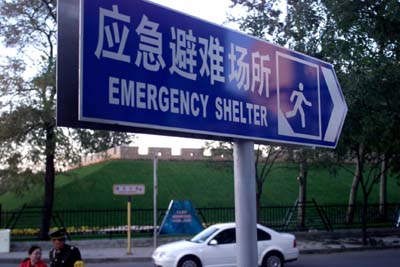 There are also plans for temporary shelters in sports complexes and large parks.
The city already has a well-equipped underground emergency shelter that could be used in case of earthquakes or war.
China's first such shelter was completed last October in the Yuandadu Park - on the city wall ruins of the capital of the Yuan Dynasty (1279-1368).
On the surface it's impossible to tell Yuandadu Park apart from other sites.
The emergency shelter is hidden by lush grass and trees.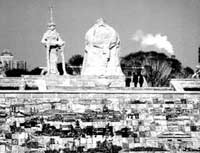 Beneath the statues in the Yuandadu Park, China's first emergency shelter, lie emergency materials in case of sudden disasters. [sina]

Should an earthquake or fire hit, however, the park can suddenly turn into a safe haven for some 230,000 Beijing residents in vicinity.

Makeshift toilets are added with concrete lids and covered by sod. Emergency wells are capped by plastic rockery. The bases of statues are hollow and can be used as storehouses.

Moreover, some of the street lamps in the park are equipped with monitors and in case of disasters they can be put into operation to give information for material dispatching and personnel control.

Song Wei, an official with the seismological bureau, said the 38-hectare shelter in the park is divided into seven areas and is equipped with power and water facilities as well as fire-prevention facilities, restrooms and storehouses.

It also has headquarters, epidemic prevention stations, specialized living zones and even two helicopter landing pads. Up to 250,000 people can live in the shelter for up to a week, said Song.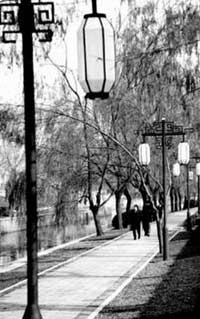 The street lamps in the Yuandadu Park function as monitor devices. [sina]

According to the seismological bureau, the pilot project is only the first step of Beijing's plan to build a citywide emergency haven system.

Similar facilities will be built in Beijing's eight downtown districts and even in a wider area.

The city has 5,300 hectares of land that can be used for emergency shelters, including 140 parks, covering an area of 4,760 hectares.

While the "Emergency Shelter" signs in plaques around the northeast of the city have aroused curiosity of passers-by, experts with the Beijing Seismological Bureau said the new facilities are a precaution against natural disasters.

They said their construction was guided by forward planning and safety considerations.

The bureau said its aim is to ensure all residents in Beijing have access to appropriate shelters in the near future.

The Huangchenggen Relics Park - the ancient wall of the imperial city of Ming and Qing dynasties (1368-1911), and the Dongdan Stadium will soon be reconstructed to also act as emergency shelters, the bureau announced.

Today's Top News
Top Life News

WHO: Bird flu death rises to 15; vaccination recommended




Solana: EU ready to lift China arms embargo




Hu's four-nation visit boosts cooperation: FM




China reports no human infection from bird flu




China pins high hopes on 6-party talks