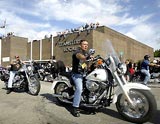 Ten thousand Harley-Davidsons, their riders wearing anything from Hog masks and feather boas to black leather, roared through the city on a parade celebrating the company's 100th anniversary.
The event was as much a tapestry of red, white and blue as the motorcycle icon's signature orange and black. One Harley rider festooned his bike with two dozen American flags.
Willie G. Davidson, a grandson of Harley-Davidson's co-founder, and his wife, Nancy, led the eight-mile parade, followed by riders on bikes toting large Harley flags representing riders' clubs from all over the world.
Riders gunned their engines, honked their horns and waved to onlookers. Many riding on the backs of bikes held video cameras. A few stretched out their arms to slap the palms of spectators.
One wore a Santa suit and had Mrs. Claus perched behind him. Others wore Viking horns, jester hats, animal-skin caps and Uncle Sam top hats.
"It was the coolest thing I ever did in my life," said Dennis Smith.
U.S. Secretary of Health and Human Services Tommy Thompson, who also is former governor of Wisconsin, rode a borrowed Harley because his bike was in Washington, D.C.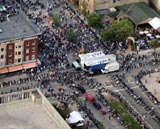 Near the end of the route, riders passed under a banner picturing Harley's four founders, who began manufacturing motorcycles in Milwaukee in 1903. Four black-and-orange semis bought up the parade's rear.
Some of the motorcyclists were picked to participate in the parade because they had raised at least ,300 for the Muscular Dystrophy Association. Milwaukee-based Harley has a 23-year history with the association and hoped to raise more than million for the group during the Labor Day weekend.
The parade was a highlight of Harley's four-day anniversary celebration, which also includes motorcycle exhibits, memorabilia sales and live entertainment centered along Lake Michigan's shoreline.
As spectators in T-shirts and shorts mingled with those in denim and leather, at least one neighbor worried about the noise. The Milwaukee County Zoo took precautions to protect its more than 2,000 animals from the roar in the parking lot just outside, where the parade began, keeping many of the animals inside until the riders were gone.
The celebration, expected to draw 200,000 to 300,000 people, concludes a birthday party featuring music and fireworks beside Lake Michigan.