Patten dons robes as Oxford's new chancellor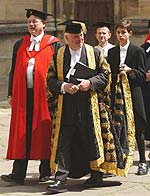 Chris Patten, center, EU Commissioner and the last Governor of Hong Kong, prepares to be sworn in as the 294th Chancellor of Oxford University, Wednesday June 25, 2003.[AP]
EU commissioner Chris Patten plunged into a new job as the 294th chancellor of Oxford University.
Patten, 58, donned his black, gold-trimmed academic robes of office to bestow an honorary degree on opera star Placido Domingo, having skipped an EU-US summit in Washington to do so.
Watched from the audience by his wife Lavender and three daughters, Patten received the university's statutes, keys and seal from vice-chancellor Sir Colin Lucas and gave a short speech in Latin.
Switching to English, Patten said Oxford -- his alma mater -- could not take its future for granted.
"This university, much the best known in the world, has no god-given right, immune to accountability or criticism, to be revered as a national treasure and an asset beyond quantification," he said.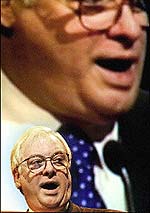 Patten, a former Conservative government minister and the last governor of Hong Kong before it returned to Chinese rule in 1997, is expected to step down next year as EU commissioner for external affairs.
Besides Oxford, he is also chancellor of Newcastle University in the north of England.