Netanyahu Is Israeli Foreign Minister, Eyes Top Job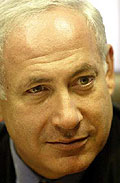 Israel's former leader Benjamin Netanyahu became foreign minister on Wednesday, ending more than three years in the political wilderness with a pledge to be tough on the Palestinians and an eye on the top job.
Netanyahu, ousted as prime minister in May 1999, joined Prime Minister Ariel Sharon's government but vowed to challenge him for the leadership of their right-wing Likud party and lead it into an early general election.
Opinion polls show Likud winning the election -- expected to take place in January -- which Sharon called this week after the center-left Labour Party bolted his coalition in a spat over funds for Jewish settlements.
"The public seeks a way out of the country's quagmire and the man to lead it out. I believe I have the way and the solutions and that most of the public knows this as well," said Netanyahu, 53, popularly known as "Bibi."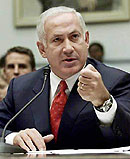 "Therefore my assessment is that I will be able to lead the country in the future," Netanyahu told Israel Radio after taking the standard parliamentary oath as foreign minister, a job vacated by Labour's Shimon Peres.
Both Likud and Labour, Israel's two main parties, will hold leadership elections before the national vote. Netanyahu said he would challenge Sharon for the Likud leadership in a party primary expected within a month.
A Knesset spokesman said a parliament committee would vote on Monday to set an election date, initially expected to be January 28.
Netanyahu said he had discussed with Sharon a U.S.-led peace plan calling for a Palestinian state after violence ends and the Palestinian Authority carries out reforms.
Sharon calculated that bringing Netanyahu into his team would both curb his rival's criticism of the prime minister before the Likud primary and give Israel an eloquent defender abroad of the tough government line on the Palestinian uprising.
For Netanyahu, returning to government -- even with Sharon as his boss -- brings him back to the public stage and gives him a high-profile platform for his hawkish security stance and his recipe for reviving the economy through tax cuts.
Netanyahu said he did not need a "long adjustment period" and could handle the foreign ministry brief while campaigning for higher office.