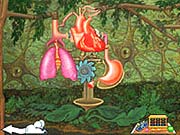 It has been four years since Northern California doctors put Ann Cowan on the kidney transplant waiting list. So far, there have been no matches.
But now she's trying a new tactic. In an ad on an Internet bulletin board called craigslist she appeals for a Good Samaritan with O-positive blood.
For the 71-year-old psychotherapist, searching for a donor over the Internet is a new experience, and one she acknowledges is fraught with risk.
Apparently, some people who've answered her ad are a little more daring. One respondent specifically asks, "What compensation are you willing to offer?"
Although federal law prohibits the sale of human organs, there's no record of anyone ever being accused of that crime. But the Internet stirs up fears of a greedy organ underground.
Twenty-five years ago, author Robin Cook wrote Coma, a novel about a black-market medical scheme where organs were auctioned to the highest bidder. It was a chilling depiction of one potential side effect of the critical donor shortage. It was only a novel, but it's rooted in some hard facts.
Of 80,000 people who wait for organs every year, only 24,000 find donors, according to the California Transplant Donor Network (CTDN), which matches donor organs and recipients. And at least one of every four dies before an organ's found.
The organ shortage has fueled the creation of a number of websites and message boards where patients search for donors.
Surgical advances allow donors to give kidneys and liver and lung fragments. But hospitals first ask tough questions to make sure no money changes hands. Dr. Robert Osorio, director of transplant services at San Francisco's California Pacific Medical Center, says he worries that corruption might scare away altruism.
"If the perception of the public is that this is going on, then I think it will decrease the amount of people out there that are willing to donate," he said.
Organ websites reflect a surge in the number of Good Samaritans. Living kidney donors now outnumber donations from the dead, according to data from the Organ Procurement and Transplantation Network (OPTN). Cowan says she hopes one of those donors will answer her Internet ad.
Note:
Good Samaritan: someone who gives help to people in trouble or need, without thinking of themselves.
The Samaritans is an organization helping people who are experiencing great suffering of mind and have no one to share their feelings with.
(Agencies)