TV's First Superstar, Milton Berle , Dies in L.A.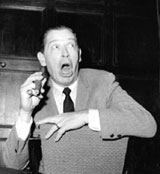 Actor-comedian Milton Berle, with cigar in hand, hams it up for the camera in New York City on May 13, 1963.
Comedian Milton Berle, whose zany, cross-dressing entrances on the variety show he hosted from 1948 to 1956 ushered in the age of television and made him the medium's first superstar, died on Wednesday, his spokesman said.
Hailed as both "Uncle Miltie" and "Mr. Television" at the height of a career spanning nine decades, Berle had been in declining health since suffering a stroke in December 1998 and was diagnosed with colon cancer in April 2001.
As one of the last of the great comedians -- among them Jack Benny, George Burns and Red Skelton -- who came of age in vaudeville, Berle's passing marked the end of an era.
With a beaming, Cheshire Cat-like grin, withering stare, cigar (and a notorious reputation for stealing jokes), Berle riveted viewers at the dawn of the television age.
Pushed into the limelight by his mother, he began as a child model for Buster Brown shoes in 1913 before working in dozens of silent movies. He then toiled on stage and radio for years to perfect his wisecracking, comic persona.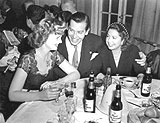 Milton is shown with his wife at the time, Joyce, left, and Eve Sully at a party given by Michael Todd for the opening of his new show "Up In Central Park" at Tavern on the Green restaurant in New York City, Jan. 28, 1945.
Those three decades as a young performer served Berle well in preparing him for his biggest break -- his groundbreaking career in what was then the fledgling medium of television.
As the wildly comic host of NBC's "The Texaco Star Theater" (1948-53), which later became the top-rated "The Milton Berle" Show" (1954-56), Uncle Miltie ruled Tuesday nights, virtually inventing TV's variety show format along the way.
Built like an old-fashioned vaudeville show, the original program opened with four Texaco Service Men singing "Oh, we're the men of Texaco, we work from Maine to Mexico ...," followed by a musical introduction of Berle, who came on dressed in women's clothes or in some other outlandish costume.
Introduced as "the man with jokes from the Stone Age," Berle entered as a caveman. Announced as "the man who just paid his taxes," he came on wearing a barrel. The show closed each week with Berle singing his theme song, "Near You."
As much as anyone, Berle established television as a form of popular entertainment. During his show's eight-year run, the number of TV sets in the United States jumped from 190,000 to 21 million, almost all of them tuned into Uncle Miltie.
Other entertainment outlets felt the first sting of broadcasting competition as viewers stayed home to watch the man.
With the rising popularity of TV westerns, detective shows and other dramas, Berle's show inevitably waned in the ratings. Two years after its final broadcast, Berle reappeared on NBC in October 1958 as host of the "Kraft Music Hall" variety series," which lasted just one season. Another comeback bid in 1966, as host of a more restrained version of "The Milton Berle Show" on ABC, was canceled after several months.
Still, he remained a fixture on television through the 1960s with numerous specials -- some built around him -- and guest spots on the other shows.