Gore's New Job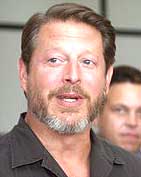 Former Vice President Al Gore has added another job to a full plate of academic and political engagements. Starting Nov. 19, he's the vice-chairman of a Los Angeles-based securities firm, Metropolitan West Financial Inc.
Gore will spearhead the private equity firm's strategic planning in biotechnology and information technology, according to a company press release. The part-time position will be compensated, but company officials and a representative from Gore's public relations firm declined to say how much he'd make. The company has its hands in a range of asset management activities, though it makes much of its money by lending stocks borrowed from other companies.
"For nearly 25 years, I have worked on business and economic issues from the perspective of a public servant engaged in public policy," Gore said in a statement. "I am eager to learn more about business as an active executive of this dynamic and community-oriented company."
During his 2000 presidential run, Gore often sheathed many of his policy proposals with potentially anti-business overtones, while still trying to convince voters that he stood against big business and profiteers. Now, though, he has joined a firm founded by a former top manager at fallen junk bond purveyor Drexel Burnham-Lambert. At least of one MetWest's principals, managing director Lorraine Spurge , was a top aide to Michael Milken , whose name become synomous with the savings and loan scandal of the 1980s.
Still, the move isn't too surprising for longtime Gore-watchers who have been wondering how the family, which isn't terribly wealthy and has a son at Harvard, has been making do since Gore left office. In January of 2001, he became, in essence, a traveling professor and an occasional speaker. As former vice president, he does receive a yearly stipend from the federal government He is also working on a book with his wife, Tipper.
Gore's duties in his new capacity are vague and flexible enough to enable him to continue teaching at Fisk and Middle Tennessee State universities in Tennessee. He'll also continue to live at home in Alexandria, Va. And, presumably, he'll keynote the occasional political function.
Gore and CEO Richard S. Hollander met this spring through intermediaries, a MetWest official said. After a series of meetings, they reached an agreement on Gore's position within the past month.
"As I began to look at MetWest Financial and acquaint myself with its business and culture, the one thing that stood out is the talent and integrity of its executive leadership and staff," Gore said in the statement.
Founded in 1992 as an offshoot of Bank of America, MetWest Financial bills itself as a securities lending firm with a pro-growth, pro-entrepreneur conscience. It does a lot of business with fixed-income clients. Some of the managers used to work for savings-and-loans bugbear Drexel Burnham Lambert; Hollander worked for Drexel from 1984-1988. Managing director Lorraine Spurge sold bonds under Michael Milken's direction from 1983 to 1989. In 1996, Spurge founded a company with Milken's backing.
As of October 31, 2001, MetWest managed more than billion in assets. The firm made national news in August 2001, when it helped finance a new national athletic training center at Stanford.




spearhead: 当...的先锋



sheathe:包装
overtone: 言外之意,弦外之音
profiteer: 奸商,投机商
purveyor: 提供者,供应者

stipend: 津贴;薪饷

keynote: 作主旨发言

intermediaries:中介




acquaint with:对...了解、熟悉
stand out:引人注目

bugbear :即bugaboo,怪物

backing:支持