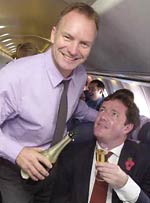 British rock star Sting (L) serves champagne to fellow passenger Piers Morgan on a British Airways Concorde.[ Reuters]
British singer Sting said he had no worries flying on the Concorde plane for the first time after being grounded since its deadly 2000 crash.

British pop star Sting checked in for the first commercial Concorde flight from London since a deadly July 2000 crash of the supersonic jetliner, aiming to become, in the words of one of his countless hits, an Englishman in New York.
"It's less dangerous than a car on the M6," he told the reporter as he prepared to board. "I feel completely safe. Why wouldn't I be?" he replied, when asked about the Concorde crash last year and the September 11 attacks, when four planes were hijacked.
"People are getting their confidence back slowly, and I think that events like this will help people," he said.
Sting said he was delighted to be back on Concorde, having been a regular customer for 20 years. "Concorde is a symbol of British Airways, of air travel and normal life," he said.
He said he particularly wanted to fly to New York as his wife, the actress Trudi Styler, was giving a speech in the city and did not realize that he was coming over. "Flying at twice the speed of sound gives you a buzz."
An Air France Concorde took off from Paris for New York shortly before the British Airways jetliner left London as both companies resumed Concorde passenger services.
(Agencies)