Born December 18, 1946, in Cincinnati, Ohio, Spielberg attended California State College (now California State University), where he received a B.A. in English in 1970. His 24-minute short, Amblin, was screened at the Atlanta Film Festival when Spielberg was still in college; its success earned the 20-year-old a seven-year contract with Universal-MCA as a television director.

After he had directed episodes of TV series such as Columbo and Marcus Welby, M.D., Spielberg's first feature-length TV movie, Duel (1971), earned the budding filmmaker critical praise and a chance to jump to the big screen. He made his feature film-directing debut in 1974 with The Sugarland Express, a crime drama starring Goldie Hawn, for which he also wrote the story. In 1975, Spielberg helmed the terrifying film Jaws, about a great white shark who wreaks bloody havoc in the seas around a New England beach town.

Spielberg followed up on the success of Jaws with Close Encounters of the Third Kind (1977), a science-fiction drama that garnered him his first Academy Award nomination for Best Director.

Though his next film, 1941 (1979), was a critical and commercial disappointment, Spielberg roared back with the 1981 action hit Raiders of the Lost Ark, which marked his first collaboration with actor Harrison Ford (as the rugged hero Indiana Jones) and producer George Lucas (whose seminal film Star Wars, also featuring Ford, was released the same year). Raiders earned Spielberg another Oscar nod for Best Director.

In the late 1980s, a string of relative disappointments, including Empire of the Sun (1987), Always (1989), and Hook (1991), coincided with a period of personal upheaval for Spielberg. In 1989, he divorced his wife of four years, the actress Amy Irving. Spielberg made a major career resurgence in 1993 with the special effect-heavy dinosaur extravaganza Jurassic Park.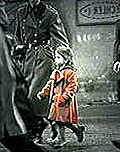 Perhaps the most moving image in Steven Spielberg's epic "Schindler's List" is the little girl in the red coat, one of only four color images in the three-hour black and white film.
Also in 1993, Spielberg released his sobering black-and-white adaptation of Thomas Keneally's prize-winning novel Schindler's List. The story of a complicated real-life hero, Nazi Party member Oskar Schindler (played by Liam Neeson), Schindler's List finally netted Spielberg the much-coveted Oscar statuettes for Best Director and Best Picture. Nominated in 12 categories in all, including acting nods for Neeson and costar Ralph Fiennes, the film won a total of seven statues.

In 1994, Spielberg joined forces with Jeffrey Katzenberg, the former head of production at Disney, and the recording mogul David Geffen to form DreamWorks, a multimedia entertainment company with interests in film, TV, music, computer software, and the budding Internet technology. Though its first several films were only modestly successful, DreamWorks began to hit its stride in the late 1990s, turning out critically acclaimed hits such as Spielberg's Saving Private Ryan (1998), American Beauty (1999), Gladiator (2000), and the animated feature Shrek (2001).
Spielberg had another banner filmmaking year in 1997, releasing not only the mammoth sequel The Lost World: Jurassic Park but also the drama Amistad. The latter film, a fact-based drama about a revolt by African slaves aboard a Spanish slave ship in 1839 that resulted in a memorable legal battle in the United States, earned critical praise and a Golden Globe nomination for Spielberg. The following summer, Spielberg had an even greater success with Saving Private Ryan, starring Tom Hanks. The grisly but awe-inspiring World War II epic, nominated for 11 Oscars, earned Spielberg his second statue for Best Director.



Screen: 放映(电影等)







episode :(电视等的)连续剧的一出(或一集)

debut:初次
star: 由...主演

wreak bloody havoc:造成血腥浩劫

Academy Award nomination:奥斯卡大奖提名




action hit:动作大片
collaboration:合作

upheaval:激变;剧变
resurgence:东山再起
extravaganza:大制作
sobering:严肃的

much-coveted:渴望已久的
statuette:小雕像,这里指奥斯卡奖

mogul:大人物;大腕

sequel:续集